Very strong mag. 6.1 earthquake - 17 km west of Düzce, Turkey, on Wednesday, Nov 23, 2022 at 4:08 am (GMT +3) -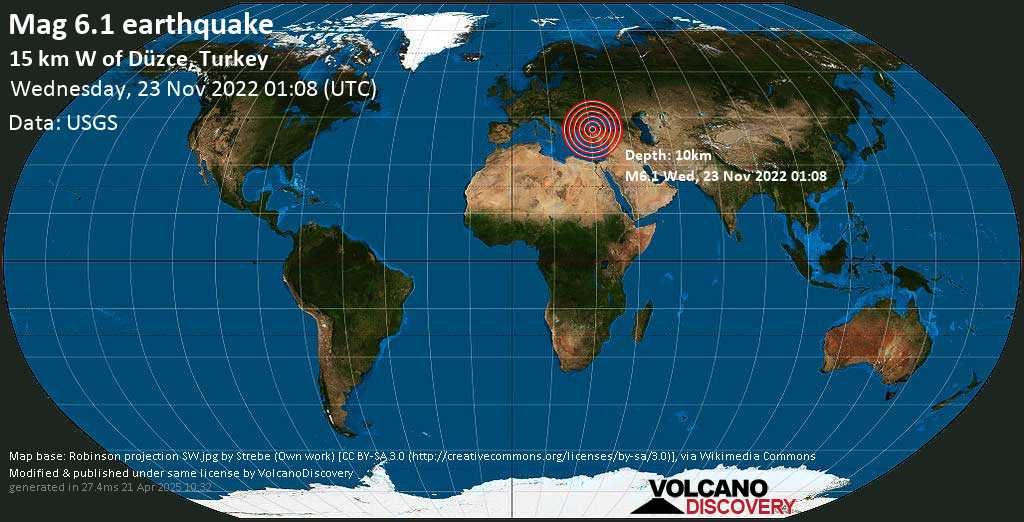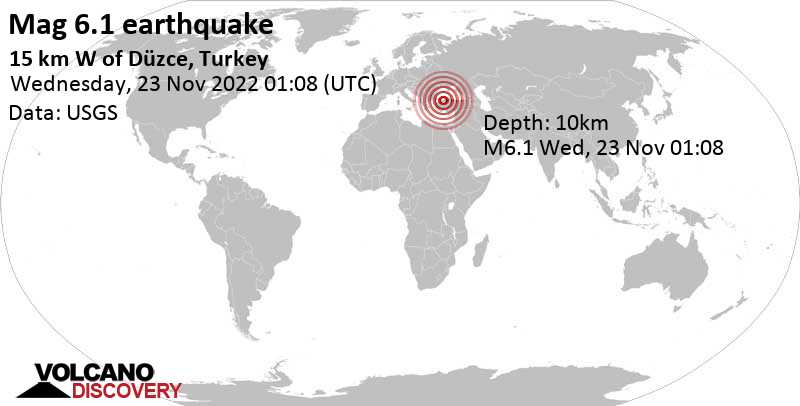 Very strong magnitude 6.1 earthquake at 10 km depth
23 Nov 01:11 UTC: First to report: GFZ after 3 minutes.
23 Nov 01:15: Magnitude recalculated from 6.2 to 6.0. Epicenter location corrected by 8.3 km (5.1 mi) towards ENE.

23 Nov 01:46: Hypocenter depth recalculated from 3.9 to 10.0 km (from 2.4 to 6.2 mi).
Update Wed, 23 Nov 2022, 07:24
Strong quake hits northwestern Turkey, at least 22 injured
Seismic signal of this morning's quake in Turkey recorded in Armenia 620 km away
A strong and shallow earthquake of magnitude 6.1 struck northwestern Turkey near the town of Düzce this morning at 4.08 a.m. local time.
According to preliminary information from local press, the tremor woke up thousands of people from their sleep and caused panic in the areas near the epicenter, where at least 22 people were injured as a result of the shaking and damages caused to buildings. There were no reports of fatalities, fortunately.

The quake was also widely felt in Turkey's largest city of Istanbul, located about 170 kilometers (105 miles) west of the epicenter. Turkey's disaster agency AFAD said there were controlled blackouts in the Duzce region and warned residents not to panic.

The quake occurred on one of (if not the) the most dangerous fault lines in the world, known as the North Anatolian Fault running through northern Turkey: here, the Anatolian micro-plate to the south that comprises most of Turkey's landmass, is moving westward along the boundary with the Eurasian plate to the north. The motion amounts to 23-24 mm per year and occurs in distinct slips along individual sections of the the fault which is when quakes occur.

Larger quakes occur along the fault every few years. Historically, the largest magnitudes up to 8 have always occurred the eastern areas of Anatolia, while quakes along the western sections of the fault reached maximum magnitudes of around 7.2-7.3. Scientists are worried in particular about the section of the fault underlying Istanbul, where a magnitude 6-7 event is statistically due.
The more so as over the past decades, stronger quakes each activating a section of the North Anatolian fault have been progressing westward. Will Istanbul be the next area to suffer a large quake? Maybe, but it is rather a question of when instead of if.
Update Wed, 23 Nov 2022, 01:18
Significant 6.0 quake hits near Düzce, Turkey
6.0 quake 17 km north of Düzce, Turkey, Nov 23, 2022 4:08 am (GMT +3)
The German Research Centre for Geosciences (GFZ) reported a magnitude 6.0 quake in Turkey near Düzce, only 10 minutes ago. The earthquake hit early morning on Wednesday, November 23rd, 2022, at 4:08 am local time at a shallow depth of 10 km. The exact magnitude, epicenter, and depth of the quake might be revised within the next few hours or minutes as seismologists review data and refine their calculations, or as other agencies issue their report.
Our monitoring service identified a second report from the National Observatory of Athens (NOA) which listed the quake at magnitude 6.0 as well. Other agencies reporting the same quake include the citizen-seismograph network of RaspberryShake at magnitude 6.0, and the European-Mediterranean Seismological Centre (EMSC) at magnitude 5.9.
Generally quakes of this magnitude are recorded by more than one agency and the results can vary, with subsequent reports that come in after the first one often showing more accuracy.
Based on the preliminary seismic data, the quake should have been felt by everybody in the area of the epicenter. In those areas, dangerous ground shaking occurred with the potential to inflict moderate to heavy damage to buildings and other infrastructure.
Towns or cities where the quake likely caused strong ground shaking include
Moderate shaking probably occurred in Düzce (pop. 57,700) located 17 km from the epicenter, Kocaali (pop. 15,100) 23 km away, Karasu Mahallesi (pop. 39,500) 29 km away, Alaplı (pop. 20,900) 31 km away, Karasu (pop. 30,700) 37 km away, Hendek (pop. 35,300) 37 km away, and Ereğli (pop. 88,800) 42 km away.
VolcanoDiscovery will automatically update magnitude and depth if these change and follow up if other significant news about the quake become available. If you're in the area, please send us your experience through our reporting mechanism, either
online
or via
our mobile app
. This will help us provide more first-hand updates to anyone around the globe who wants to know more about this quake.
Earthquake details
Date & time
Nov 23, 2022 01:08:15 UTC -
Local time

at epicenter

Wednesday, Nov 23, 2022 at 4:08 am (GMT +3)
Status
Confirmed
Magnitude
6.1
Depth
10.0 km
Epicenter

latitude / longitude

40.8471°N / 30.967°E (Düzce, Turkey)
Antipode
40.847°S / 149.033°W
Shaking

intensity

Strong shaking near epicenter
Felt
0 reports
Primary data source
USGS (United States Geological Survey)
Nearby

towns and cities

17 km (10 mi) W of Düzce (pop: 57,700) |

Show on map

| Quakes nearby
19 km (12 mi) ENE of Hendek (Sakarya) (pop: 35,300) |

Show on map

| Quakes nearby
29 km (18 mi) SSE of Karasu Mahallesi (Sakarya) (pop: 39,500) |

Show on map

| Quakes nearby
29 km (18 mi) SSW of Akçakoca (pop: 35,200) |

Show on map

| Quakes nearby
34 km (21 mi) ENE of Akyazı (Sakarya) (pop: 25,100) |

Show on map

| Quakes nearby
37 km (23 mi) SE of Karasu (Sakarya) (pop: 30,700) |

Show on map

| Quakes nearby
171 km (106 mi) E of Istanbul (pop: 14,804,100) |

Show on map

| Quakes nearby
190 km (118 mi) WNW of Ankara (pop: 3,517,200) |

Show on map

| Quakes nearby
Weather at epicenter

at time of quake

Overcast Clouds 11.3°C (52 F), humidity: 56%, wind: 3 m/s (6 kts) from SSE
Estimated

seismic

energy

released

8.9 x 1013 joules (24.8 gigawatt hours, equivalent to 21301 tons of TNT or 1.3 atomic bombs!) | about seismic energy
Data for the same earthquake reported by different agencies
Info: The more agencies report about the same quake and post similar data, the more confidence you can have in the data. It takes normally up to a few hours until earthquake parameters are calculated with near-optimum precision.
| | | | |
| --- | --- | --- | --- |
| Mag. | Depth | Location | Source |
| 6.1 | 10 km | 16 Km W of Düzce, Turkey | USGS |
| 6.0 | 7 km | WESTERN TURKEY | EMSC |
| 6.1 | 10 km | Turkey | RaspberryShake |
| 6.0 | 10 km | Turkey: 381 Km E From Didymoteicho | NOA |
| 6.0 | 10.6 km | Turkey: SARIDERE-GOLYAKA (DUZCE) | KOERI-RETMC |
| 5.5 | 10 km | Turkey: Near Istanbul | RENASS |
| 6.1 | 10 km | Turkey | INGV |
| 6.1 | 10 km | Turkey | GFZ |
| 6.0 | 10 km | Turkey | GeoAu |
| 6.1 | 10 km | Turkey | IRIS |
| 6.0 | 6 km | Turkey: Duzce / Türkei | ZAMG |
Seismograms
Seismic station: Albuquerque, New Mexico, USA (ANMO/IU network)
| Distance from quake: 10530 km / 6543 mi |
Show on map
|
Station Info
Seismogram (vertical component) around time of quake. Thin dotted red line indicates time of quake. Seismic waves arrive some time later, depending on distance. Bandpass filter applied: 0.02-2.0 Hz. Source:
IRIS Buffer of Uniform Data (BUD) webtool
User reports for this quake
There are no user reports for this quake.
Aftershocks
[More info]
Recorded aftershocks, 200 largest out of 246 total
Date and time
Mag
Depth
Location
Details
Feb 6, 2023 12:03


8 weeks ago

5.5


10 km
25 km NE of Sakarya, Turkey
More
Mar 16, 2023 10:55


2 weeks ago

-

felt

4.8


10 km
7.9 km W of Bolu, Turkey
More
Nov 23, 2022 03:50


18 weeks ago

-

felt

4.4


10 km
21 km W of Düzce, Turkey
More
Nov 27, 2022 03:57


18 weeks ago

-

felt

4.1


10 km
15 km W of Düzce, Turkey
More
Dec 3, 2022 04:59


17 weeks ago

-

felt

4.1


11 km
20 km W of Düzce, Turkey
More
Nov 23, 2022 01:30


18 weeks ago

-

felt

3.9


5 km
8.5 km SW of Düzce, Turkey
More
Jan 7, 2023 07:55


12 weeks ago

3.9


3 km
14 km W of Bolu, Turkey
More
Mar 16, 2023 16:36


2 weeks ago

3.8


2 km
9.7 km NW of Bolu, Turkey
More
Dec 2, 2022 10:03


17 weeks ago

3.7


10 km
9.3 km W of Düzce, Turkey
More
Nov 25, 2022 09:00


18 weeks ago

3.5


2 km
20 km W of Düzce, Turkey
More
Dec 2, 2022 18:49


17 weeks ago

3.5


2 km
16 km SW of Düzce, Turkey
More
Dec 3, 2022 23:33


17 weeks ago

-

felt

3.4


7 km
24 km W of Düzce, Turkey
More
Jan 10, 2023 06:15


11 weeks ago

3.4


8 km
14 km S of Sakarya, Turkey
More
Mar 16, 2023 17:18


2 weeks ago

3.4


5 km
12 km NW of Bolu, Turkey
More
Nov 25, 2022 22:01


18 weeks ago

3.3


6 km
16 km W of Düzce, Turkey
More
Jan 30, 2023 10:14


9 weeks ago

3.3


5 km
17 km W of Düzce, Turkey
More
Feb 13, 2023 08:01


7 weeks ago

3.3


5.1 km
15 km W of Düzce, Turkey
More
Mar 5, 2023 05:28


4 weeks ago

3.3


5.8 km
Bolu, 19 km W of Düzce, Turkey
More
Mar 16, 2023 11:05


2 weeks ago

3.3


4 km
9.5 km NW of Bolu, Turkey
More
Mar 17, 2023 11:00


2 weeks ago

3.3


2 km
10 km NW of Bolu, Turkey
More
Feb 2, 2023 20:08


8 weeks ago

3.2


16 km
14 km S of Sakarya, Turkey
More
Feb 2, 2023 20:25


8 weeks ago

3.2


14 km
13 km S of Sakarya, Turkey
More
Nov 24, 2022 01:02


18 weeks ago

3.1


3.8 km
15 km SW of Düzce, Turkey
More
Dec 8, 2022 03:00


16 weeks ago

3.1


5.4 km
16 km W of Düzce, Turkey
More
Mar 16, 2023 13:04


2 weeks ago

-

felt

3.1


5 km
13 km NW of Bolu, Turkey
More
Mar 22, 2023 08:19


9 days ago

-

felt

3.1


4 km
10.1 km NW of Bolu, Turkey
More
Nov 25, 2022 03:58


18 weeks ago

3.0


8 km
14 km W of Düzce, Turkey
More
Nov 25, 2022 16:07


18 weeks ago

3.0


5 km
11 km W of Düzce, Turkey
More
Dec 2, 2022 21:09


17 weeks ago

3.0


5 km
11 km SW of Düzce, Turkey
More
Dec 12, 2022 12:53


16 weeks ago

3.0


4.5 km
15 km W of Düzce, Turkey
More
Mar 23, 2023 00:32


9 days ago

-

felt

3.0


5 km
9.7 km NW of Bolu, Turkey
More
Nov 23, 2022 13:19


18 weeks ago

2.9


5.5 km
17 km SW of Düzce, Turkey
More
Nov 24, 2022 13:00


18 weeks ago

2.9


4.9 km
14 km W of Düzce, Turkey
More
Dec 3, 2022 14:03


17 weeks ago

2.9


2 km
19 km SW of Düzce, Turkey
More
Jan 3, 2023 17:24


12 weeks ago

2.9


5.5 km
13 km W of Düzce, Turkey
More
Jan 9, 2023 10:33


12 weeks ago

2.9


6 km
9 km S of Sakarya, Turkey
More
Jan 23, 2023 22:37


10 weeks ago

2.9


7.8 km
2.1 km SE of Akyazı, Sakarya, Turkey
More
Jan 26, 2023 18:39


9 weeks ago

2.9


2 km
8.9 km SW of Düzce, Turkey
More
Feb 5, 2023 16:15


8 weeks ago

2.9


8 km
13 km S of Sakarya, Turkey
More
Feb 6, 2023 08:32


8 weeks ago

2.9


15 km
Düzce, 9.9 km E of Hendek, Sakarya, Turkey
More
Feb 11, 2023 23:31


7 weeks ago

2.9


6 km
12 km W of Düzce, Turkey
More
Mar 11, 2023 06:25


3 weeks ago

2.9


2 km
15 km NE of Bolu, Turkey
More
Mar 16, 2023 07:26


2 weeks ago

2.9


5.8 km
13 km S of Sakarya, Turkey
More
Mar 16, 2023 16:38


2 weeks ago

2.9


5 km
9.7 km NW of Bolu, Turkey
More
Mar 16, 2023 17:31


2 weeks ago

2.9


2 km
10.2 km NW of Bolu, Turkey
More
Nov 23, 2022 10:44


18 weeks ago

2.8


4 km
10.9 km W of Düzce, Turkey
More
Nov 27, 2022 19:14


18 weeks ago

2.8


2 km
7.6 km NE of Hendek, Sakarya, Turkey
More
Nov 27, 2022 22:53


18 weeks ago

2.8


7.9 km
13 km SW of Düzce, Turkey
More
Mar 25, 2023 00:07


7 days ago

2.8


2 km
10.2 km NW of Bolu, Turkey
More
Nov 23, 2022 05:49


18 weeks ago

2.7


5 km
7.4 km W of Düzce, Turkey
More
Nov 24, 2022 19:39


18 weeks ago

2.7


6.7 km
15 km W of Düzce, Turkey
More
Nov 25, 2022 11:41


18 weeks ago

2.7


9 km
13 km W of Düzce, Turkey
More
Nov 26, 2022 07:32


18 weeks ago

2.7


12 km
10.3 km SW of Düzce, Turkey
More
Nov 27, 2022 14:23


18 weeks ago

2.7


8 km
7.5 km SW of Düzce, Turkey
More
Dec 7, 2022 08:24


16 weeks ago

2.7


5 km
5.5 km W of Düzce, Turkey
More
Jan 11, 2023 17:22


11 weeks ago

2.7


15 km
7.8 km W of Düzce, Turkey
More
Mar 5, 2023 05:26


4 weeks ago

2.7


2.4 km
Bolu, 18 km W of Düzce, Turkey
More
Mar 17, 2023 11:01


2 weeks ago

2.7


2.3 km
11 km NW of Bolu, Turkey
More
Nov 23, 2022 02:36


18 weeks ago

2.6


4 km
4.6 km W of Düzce, Turkey
More
Nov 23, 2022 16:43


18 weeks ago

2.6


3.6 km
6 km W of Düzce, Turkey
More
Nov 25, 2022 02:41


18 weeks ago

2.6


10.2 km
11 km W of Düzce, Turkey
More
Nov 25, 2022 08:23


18 weeks ago

2.6


8.3 km
15 km W of Düzce, Turkey
More
Nov 27, 2022 04:01


18 weeks ago

2.6


17 km
10.5 km W of Düzce, Turkey
More
Nov 30, 2022 15:45


17 weeks ago

2.6


10 km
10.9 km W of Düzce, Turkey
More
Nov 30, 2022 20:21


17 weeks ago

2.6


8 km
21 km W of Düzce, Turkey
More
Dec 17, 2022 04:26


15 weeks ago

2.6


2 km
9.8 km SW of Düzce, Turkey
More
Dec 23, 2022 03:23


14 weeks ago

2.6


11 km
19 km W of Düzce, Turkey
More
Jan 7, 2023 23:45


12 weeks ago

2.6


2 km
16 km SW of Düzce, Turkey
More
Jan 8, 2023 01:00


12 weeks ago

2.6


2 km
16 km SW of Düzce, Turkey
More
Feb 23, 2023 12:33


5 weeks ago

2.6


6.7 km
12 km S of Sakarya, Turkey
More
Mar 14, 2023 21:48


2 weeks ago

2.6


5 km
15 km NW of Bolu, Turkey
More
Mar 25, 2023 20:03


6 days ago

2.6


9.9 km
8.8 km N of Sakarya, Turkey
More
Nov 23, 2022 02:16


18 weeks ago

2.5


4 km
4.2 km SW of Düzce, Turkey
More
Nov 23, 2022 03:10


18 weeks ago

2.5


8 km
15 km SW of Düzce, Turkey
More
Nov 23, 2022 21:17


18 weeks ago

2.5


13 km
15 km W of Düzce, Turkey
More
Nov 26, 2022 04:38


18 weeks ago

2.5


5 km
16 km W of Düzce, Turkey
More
Nov 26, 2022 09:56


18 weeks ago

2.5


12 km
6.6 km W of Düzce, Turkey
More
Nov 27, 2022 03:30


18 weeks ago

2.5


12 km
13 km W of Düzce, Turkey
More
Nov 28, 2022 11:49


18 weeks ago

2.5


5 km
Bolu, 19 km W of Düzce, Turkey
More
Dec 2, 2022 15:18


17 weeks ago

2.5


12 km
Bolu, 18 km W of Düzce, Turkey
More
Dec 5, 2022 23:20


17 weeks ago

2.5


2 km
13 km SW of Düzce, Turkey
More
Dec 15, 2022 06:53


15 weeks ago

2.5


6 km
16 km N of Bolu, Turkey
More
Dec 22, 2022 23:18


14 weeks ago

2.5


2 km
14 km W of Bolu, Turkey
More
Dec 23, 2022 20:50


14 weeks ago

2.5


9 km
Düzce, 19 km W of Bolu, Turkey
More
Dec 23, 2022 22:21


14 weeks ago

2.5


8 km
Bolu, 18 km W of Düzce, Turkey
More
Dec 25, 2022 04:57


14 weeks ago

2.5


5 km
16 km W of Düzce, Turkey
More
Jan 26, 2023 17:44


9 weeks ago

2.5


5.4 km
15 km N of Bolu, Turkey
More
Feb 4, 2023 23:20


8 weeks ago

-

felt

2.5


16 km
14 km S of Sakarya, Turkey
More
Feb 5, 2023 15:49


8 weeks ago

2.5


6 km
12 km W of Düzce, Turkey
More
Nov 23, 2022 03:08


18 weeks ago

2.4


3.5 km
14 km SW of Düzce, Turkey
More
Nov 23, 2022 22:22


18 weeks ago

2.4


5.8 km
14 km W of Düzce, Turkey
More
Nov 24, 2022 19:26


18 weeks ago

2.4


7.1 km
10.4 km W of Düzce, Turkey
More
Nov 25, 2022 23:21


18 weeks ago

2.4


15 km
11 km W of Düzce, Turkey
More
Dec 4, 2022 09:11


17 weeks ago

2.4


13 km
12 km W of Düzce, Turkey
More
Dec 4, 2022 13:38


17 weeks ago

-

felt

2.4


5 km
7.1 km SW of Düzce, Turkey
More
Jan 8, 2023 03:15


12 weeks ago

2.4


7 km
12 km S of Sakarya, Turkey
More
Feb 8, 2023 22:30


7 weeks ago

2.4


5.9 km
13 km S of Sakarya, Turkey
More
Feb 13, 2023 10:40


7 weeks ago

2.4


5 km
23 km W of Düzce, Turkey
More
Mar 2, 2023 03:32


4 weeks ago

2.4


4 km
6.9 km NW of Düzce, Turkey
More
Mar 16, 2023 11:21


2 weeks ago

2.4


3.9 km
9.5 km NW of Bolu, Turkey
More
Mar 16, 2023 11:56


2 weeks ago

2.4


2.4 km
7 km NW of Bolu, Turkey
More
Mar 16, 2023 17:30


2 weeks ago

2.4


5 km
10.1 km W of Bolu, Turkey
More
Nov 23, 2022 06:14


18 weeks ago

2.3


6 km
4.2 km W of Düzce, Turkey
More
Nov 23, 2022 09:41


18 weeks ago

2.3


7.7 km
18 km W of Düzce, Turkey
More
Nov 24, 2022 10:49


18 weeks ago

2.3


9.1 km
6.8 km W of Düzce, Turkey
More
Nov 24, 2022 14:33


18 weeks ago

2.3


5.3 km
8.5 km W of Düzce, Turkey
More
Nov 29, 2022 05:33


17 weeks ago

2.3


14 km
3 km SW of Düzce, Turkey
More
Nov 30, 2022 04:29


17 weeks ago

2.3


5.3 km
17 km W of Düzce, Turkey
More
Dec 2, 2022 01:46


17 weeks ago

2.3


15 km
10.6 km SE of Düzce, Turkey
More
Dec 4, 2022 14:19


17 weeks ago

2.3


10.2 km
20 km W of Düzce, Turkey
More
Dec 6, 2022 11:03


16 weeks ago

2.3


14 km
9.5 km N of Sakarya, Turkey
More
Dec 7, 2022 10:57


16 weeks ago

2.3


5 km
15 km W of Düzce, Turkey
More
Dec 17, 2022 22:11


15 weeks ago

2.3


8.4 km
13 km SW of Düzce, Turkey
More
Dec 25, 2022 15:28


14 weeks ago

2.3


5.1 km
17 km SW of Düzce, Turkey
More
Dec 29, 2022 00:22


13 weeks ago

2.3


5.6 km
21 km W of Düzce, Turkey
More
Jan 1, 2023 01:26


13 weeks ago

2.3


16 km
11 km S of Sakarya, Turkey
More
Jan 8, 2023 03:16


12 weeks ago

2.3


6.5 km
11 km S of Sakarya, Turkey
More
Jan 15, 2023 00:12


11 weeks ago

2.3


8.8 km
10.7 km SW of Düzce, Turkey
More
Jan 26, 2023 18:44


9 weeks ago

2.3


10.1 km
8.7 km SW of Düzce, Turkey
More
Feb 9, 2023 00:46


7 weeks ago

2.3


6.8 km
14 km S of Sakarya, Turkey
More
Feb 12, 2023 04:22


7 weeks ago

2.3


9.1 km
15 km W of Düzce, Turkey
More
Feb 16, 2023 21:20


6 weeks ago

2.3


5 km
10.6 km SW of Düzce, Turkey
More
Mar 16, 2023 03:28


2 weeks ago

2.3


12 km
14 km S of Sakarya, Turkey
More
Mar 16, 2023 11:02


2 weeks ago

2.3


5 km
14 km NW of Bolu, Turkey
More
Mar 17, 2023 06:20


2 weeks ago

2.3


6.9 km
8.6 km NW of Bolu, Turkey
More
Nov 23, 2022 02:01


18 weeks ago

2.2


1.8 km
13 km SW of Düzce, Turkey
More
Nov 23, 2022 03:18


18 weeks ago

2.2


5.4 km
Düzce, 12 km SE of Hendek, Sakarya, Turkey
More
Nov 23, 2022 04:28


18 weeks ago

2.2


6.4 km
15 km W of Düzce, Turkey
More
Nov 24, 2022 08:37


18 weeks ago

2.2


5.6 km
8.4 km SW of Düzce, Turkey
More
Nov 25, 2022 21:20


18 weeks ago

2.2


12 km
7.2 km SW of Düzce, Turkey
More
Nov 26, 2022 04:36


18 weeks ago

2.2


5.3 km
15 km W of Düzce, Turkey
More
Nov 26, 2022 08:17


18 weeks ago

2.2


4.8 km
7.6 km NW of Düzce, Turkey
More
Nov 26, 2022 15:14


18 weeks ago

2.2


7.5 km
13 km SW of Düzce, Turkey
More
Nov 27, 2022 10:22


18 weeks ago

2.2


5 km
Bolu, 17 km W of Düzce, Turkey
More
Nov 27, 2022 11:26


18 weeks ago

2.2


5 km
17 km SW of Düzce, Turkey
More
Nov 30, 2022 01:21


17 weeks ago

2.2


5.6 km
9.2 km W of Düzce, Turkey
More
Nov 30, 2022 08:41


17 weeks ago

2.2


8.9 km
13 km NE of Bolu, Turkey
More
Dec 1, 2022 13:55


17 weeks ago

2.2


7.6 km
16 km N of Bolu, Turkey
More
Dec 2, 2022 11:48


17 weeks ago

2.2


8.6 km
20 km E of Sakarya, Turkey
More
Dec 2, 2022 12:16


17 weeks ago

2.2


10 km
9.2 km SW of Düzce, Turkey
More
Dec 15, 2022 02:06


15 weeks ago

2.2


5 km
14 km SW of Düzce, Turkey
More
Dec 18, 2022 06:21


15 weeks ago

2.2


6.8 km
16 km N of Bolu, Turkey
More
Dec 23, 2022 02:54


14 weeks ago

2.2


8.7 km
15 km W of Düzce, Turkey
More
Dec 25, 2022 14:29


14 weeks ago

2.2


6 km
15 km E of Düzce, Turkey
More
Dec 27, 2022 13:28


13 weeks ago

2.2


4.5 km
12 km W of Düzce, Turkey
More
Jan 8, 2023 02:21


12 weeks ago

2.2


5 km
17 km SW of Düzce, Turkey
More
Jan 10, 2023 14:49


11 weeks ago

2.2


4.9 km
15 km W of Düzce, Turkey
More
Jan 31, 2023 03:29


9 weeks ago

2.2


5 km
Bolu, 18 km W of Düzce, Turkey
More
Feb 1, 2023 04:38


8 weeks ago

2.2


15 km
13 km S of Sakarya, Turkey
More
Feb 1, 2023 15:24


8 weeks ago

2.2


5 km
15 km N of Bolu, Turkey
More
Feb 6, 2023 08:24


8 weeks ago

2.2


16 km
7.1 km SW of Düzce, Turkey
More
Feb 11, 2023 21:57


7 weeks ago

2.2


5.5 km
12 km W of Düzce, Turkey
More
Mar 13, 2023 07:10


3 weeks ago

2.2


12 km
7.8 km SW of Düzce, Turkey
More
Mar 16, 2023 11:24


2 weeks ago

2.2


3.6 km
10.9 km NW of Bolu, Turkey
More
Mar 16, 2023 17:19


2 weeks ago

2.2


5.3 km
12 km N of Bolu, Turkey
More
Mar 17, 2023 18:14


14 days ago

2.2


5.5 km
13 km S of Sakarya, Turkey
More
Mar 18, 2023 04:48


13 days ago

2.2


5 km
15 km NE of Bolu, Turkey
More
Nov 23, 2022 03:03


18 weeks ago

2.1


5 km
9.9 km SW of Düzce, Turkey
More
Nov 23, 2022 02:59


18 weeks ago

2.1


6.6 km
16 km W of Düzce, Turkey
More
Nov 23, 2022 04:37


18 weeks ago

2.1


8.1 km
8.5 km W of Düzce, Turkey
More
Nov 23, 2022 04:35


18 weeks ago

2.1


14 km
13 km W of Düzce, Turkey
More
Nov 23, 2022 14:37


18 weeks ago

2.1


7.8 km
10.7 km W of Düzce, Turkey
More
Nov 23, 2022 16:42


18 weeks ago

2.1


8.5 km
14 km SW of Düzce, Turkey
More
Nov 23, 2022 17:08


18 weeks ago

2.1


8.5 km
10.9 km SW of Düzce, Turkey
More
Nov 23, 2022 20:02


18 weeks ago

2.1


7.2 km
1 km NW of Düzce, Turkey
More
Nov 24, 2022 21:54


18 weeks ago

2.1


12 km
16 km W of Düzce, Turkey
More
Nov 25, 2022 07:16


18 weeks ago

2.1


9 km
15 km W of Düzce, Turkey
More
Nov 25, 2022 13:44


18 weeks ago

2.1


13 km
4.1 km E of Bolu, Turkey
More
Nov 27, 2022 02:06


18 weeks ago

2.1


8.5 km
10.6 km SW of Düzce, Turkey
More
Nov 27, 2022 04:34


18 weeks ago

2.1


13 km
12 km W of Düzce, Turkey
More
Nov 27, 2022 11:28


18 weeks ago

2.1


4.1 km
18 km SW of Düzce, Turkey
More
Nov 27, 2022 20:51


18 weeks ago

2.1


11 km
4.3 km W of Düzce, Turkey
More
Nov 30, 2022 20:53


17 weeks ago

2.1


14 km
9.9 km W of Düzce, Turkey
More
Dec 1, 2022 22:15


17 weeks ago

2.1


11 km
10.2 km W of Düzce, Turkey
More
Dec 5, 2022 13:17


17 weeks ago

2.1


4.9 km
10.4 km W of Düzce, Turkey
More
Dec 7, 2022 05:00


16 weeks ago

2.1


11 km
16 km W of Düzce, Turkey
More
Dec 7, 2022 22:02


16 weeks ago

2.1


10.5 km
4.5 km SW of Düzce, Turkey
More
Dec 12, 2022 02:34


16 weeks ago

2.1


9.9 km
13 km SW of Düzce, Turkey
More
Dec 12, 2022 09:54


16 weeks ago

2.1


12 km
16 km W of Düzce, Turkey
More
Dec 12, 2022 10:05


16 weeks ago

2.1


8.3 km
8.6 km SW of Düzce, Turkey
More
Dec 16, 2022 08:29


15 weeks ago

2.1


9.8 km
7 km SW of Düzce, Turkey
More
Dec 19, 2022 01:49


15 weeks ago

2.1


14 km
5.3 km SE of Sakarya, Turkey
More
Jan 3, 2023 23:28


12 weeks ago

2.1


12 km
16 km E of Düzce, Turkey
More
Jan 4, 2023 01:30


12 weeks ago

2.1


12 km
9.2 km SW of Düzce, Turkey
More
Jan 11, 2023 04:19


11 weeks ago

2.1


7.2 km
14 km S of Sakarya, Turkey
More
Jan 21, 2023 10:33


10 weeks ago

2.1


4.9 km
Bolu, 18 km W of Düzce, Turkey
More
Jan 28, 2023 10:12


9 weeks ago

2.1


6.5 km
5.5 km SW of Düzce, Turkey
More
Feb 1, 2023 04:35


8 weeks ago

2.1


12 km
13 km S of Sakarya, Turkey
More
Feb 1, 2023 13:24


8 weeks ago

2.1


5.5 km
14 km N of Bolu, Turkey
More
Feb 2, 2023 03:55


8 weeks ago

2.1


7.4 km
13 km S of Sakarya, Turkey
More
Feb 8, 2023 10:00


7 weeks ago

2.1


5.5 km
15 km S of Sakarya, Turkey
More
Feb 24, 2023 15:07


5 weeks ago

2.1


6.4 km
3.2 km NW of Torbali, Kemer İlçesi, Bolu, Turkey
More
Feb 24, 2023 20:16


5 weeks ago

2.1


4 km
14 km SW of Düzce, Turkey
More
Mar 3, 2023 00:29


4 weeks ago

2.1


17 km
18 km N of Sakarya, Turkey
More
Mar 11, 2023 12:17


3 weeks ago

2.1


14 km
13 km SE of Sakarya, Turkey
More
Mar 17, 2023 10:16


2 weeks ago

2.1


8.2 km
8.9 km N of Bolu, Turkey
More
Mar 17, 2023 19:13


14 days ago

2.1


10.6 km
7.8 km W of Bolu, Turkey
More
Mar 18, 2023 17:50


13 days ago

2.1


8 km
11 km NW of Bolu, Turkey
More
Mar 25, 2023 16:37


6 days ago

2.1


8.8 km
15 km W of Düzce, Turkey
More
Mar 25, 2023 18:55


6 days ago

2.1


5.4 km
12 km NE of Bolu, Turkey
More