Moderate mag. 4.3 earthquake - South Pacific Ocean, 128 km north of Concepcion, Region del Biobio, Chile, on Saturday, May 14, 2022 at 12:07 am (GMT -5) -
I felt this quake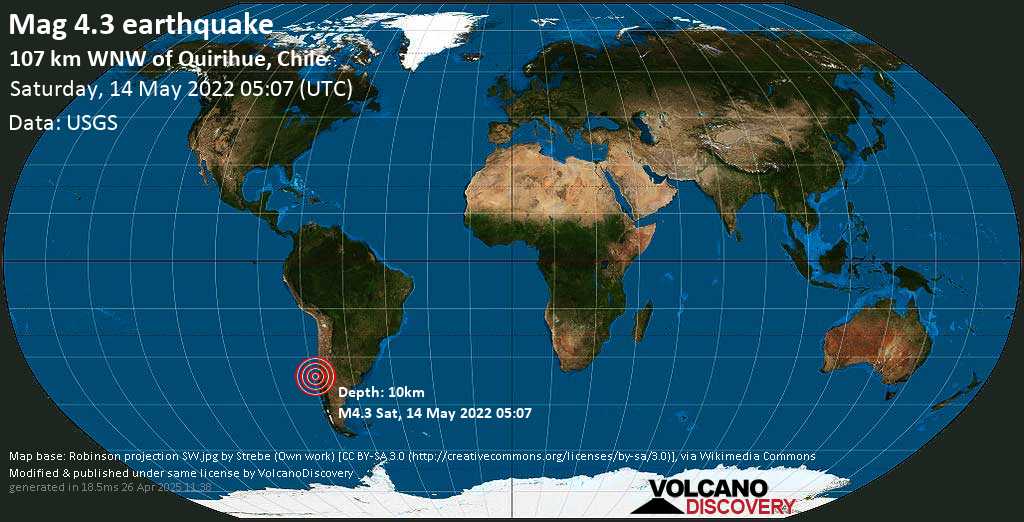 Moderate magnitude 4.3 earthquake at 10 km depth
14 May 05:12 UTC: First to report: RaspberryShake after 5 minutes.
14 May 05:58: Now using data updates from USGS
Update Sat, 14 May 2022, 05:18
Moderate magnitude 4.5 quake hits 99 km southwest of Constitucion, Chile after midnight
4.5 quake 14 May 12:07 am (GMT -5)
An earthquake of magnitude 4.5 occurred after midnight on Saturday, May 14th, 2022, at 12:07 am local time near Constitucion, Talca, Maule Region, Chile, as reported by the citizen-seismograph network of RaspberryShake.
According to preliminary data, the quake was located at a very shallow depth of 5 km. Shallow earthquakes are felt more strongly than deeper ones as they are closer to the surface. The exact magnitude, epicenter, and depth of the quake might be revised within the next few hours or minutes as seismologists review data and refine their calculations, or as other agencies issue their report.
A second report was later issued by the European-Mediterranean Seismological Centre (EMSC), which listed it as a magnitude 4.4 earthquake.
Towns or cities near the epicenter where the quake might have been felt as very weak shaking include Quirihue (pop. 8,000) located 95 km from the epicenter, Cauquenes (pop. 31,400) 98 km away, Constitucion (pop. 37,900) 99 km away, Tomé (pop. 46,700) 103 km away, and Talcahuano (pop. 253,000) 111 km away.
VolcanoDiscovery will automatically update magnitude and depth if these change and follow up if other significant news about the quake become available. If you're in the area, please send us your experience through our reporting mechanism, either
online
or via
our mobile app
. This will help us provide more first-hand updates to anyone around the globe who wants to know more about this quake.
If you were or still are in this area during the quake
help others with your feedback and
report it here
.
Earthquake data
I felt this quake
I didn't feel it
Date & time:
May 14, 2022 05:07:22 UTC -
Local time at epicenter:
Saturday, May 14, 2022 at 12:07 am (GMT -5)
Magnitude: 4.3
Depth: 10.0 km
Epicenter latitude / longitude:
35.7446°S / 73.5459°W
(
South Pacific Ocean
,
Chile
)
Antipode:
35.745°N / 106.454°E
Nearest volcano:
Nevado de Longavi
(220 km / 137 mi)
Nearby towns and cities:
108 km (67 mi) WNW of Quirihue
(pop: 8,000) -->
See nearby quakes!
111 km (69 mi) NNW of Tomé
(pop: 46,700) -->
See nearby quakes!
116 km (72 mi) NNW of Talcahuano
(pop: 253,000) -->
See nearby quakes!
128 km (80 mi) NNW of Concepcion
(pop: 215,400) -->
See nearby quakes!
139 km (87 mi) NNW of Chiguayante
(pop: 82,500) -->
See nearby quakes!
148 km (92 mi) NNW of Coronel
(pop: 92,900) -->
See nearby quakes!
161 km (100 mi) NW of Chillan
(pop: 150,400) -->
See nearby quakes!
175 km (109 mi) WSW of Talca
(pop: 197,500) -->
See nearby quakes!
361 km (224 mi) SW of Puente Alto
(pop: 510,400) -->
See nearby quakes!
368 km (228 mi) SW of Santiago de Chile
(pop: 4,837,300) -->
See nearby quakes!
Weather at epicenter at time of quake:
Overcast Clouds
12.2°C
(54 F), humidity: 77%, wind: 10 m/s (19 kts) from S
Primary data source:
USGS
(United States Geological Survey)
Estimated released energy:
1.8 x 10
11
joules (49.4 megawatt hours, equivalent to 42.5 tons of TNT) |
about seismic energy
If you felt this quake (or if you were near the epicenter),
please share your experience and submit a short "I felt it" report!
Other users would love to hear about it!
If you did NOT feel the quake
although you were in the area,
please report it
! Your contribution is valuable to earthquake science, seismic hazard analysis and mitigation efforts. You can use your device location or the map to indicate where you were during the earthquake. Thank you!
Data for the same earthquake reported by different agencies
Info: The more agencies report about the same quake and post similar data, the more confidence you can have in the data. It takes normally up to a few hours until earthquake parameters are calculated with near-optimum precision.
| | | | |
| --- | --- | --- | --- |
| Mag. | Depth | Location | Source |
| 4.3 | 10 km | 108 Km WNW of Quirihue, Chile | USGS |
| 4.3 | 10 km | OFFSHORE MAULE, CHILE | EMSC |
| 4.3 | 10 km | Off Coast of Central Chile | RaspberryShake |
User reports for this quake
There are no user reports for this quake yet. If you felt it be the first to report it!
Try our free app!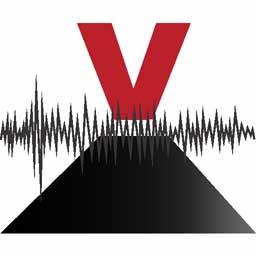 Earlier earthquakes in the same area since 1900
Date and time GMT
Mag
Depth
Distance
Location
Details
Feb 27, 2010 06:34


12 years ago

8.8


23 km
72km / 45mi
55 km N of Tomé, Provincia de Concepcion, Region del Biobio, Chile
More
May 21, 1960 10:02


62 years ago

8.1


25 km
232km / 144mi
4.6 km SE of Cañete, Provincia de Arauco, Region del Biobio, Chile
More
Jan 25, 1939 03:32


83 years ago

7.8


35 km
127km / 79mi
Region del Biobio, 39 km NW of Chillan, Diguillin, Ñuble, Chile
More
Dec 1, 1928 04:06


94 years ago

7.7


35 km
146km / 91mi
34 km NE of Constitucion, Talca, Maule Region, Chile
More
Jan 30, 1914 03:35


108 years ago

7.6


15 km
149km / 93mi
180 km W of Talcahuano, Provincia de Concepcion, Region del Biobio, Chile
More
May 6, 1953 17:16


69 years ago

7.5


66 km
162km / 101mi
24 km SE of Chiguayante, Provincia de Concepcion, Region del Biobio, Chile
More
Feb 27, 2010 08:01


12 years ago

7.4


35 km
262km / 163mi
124 km W of Lebu, Provincia de Arauco, Region del Biobio, Chile
More
Apr 9, 1985 01:56


37 years ago

7.2


38 km
251km / 156mi
Provincia de Cardenal Caro, O'Higgins, 60 km S of San Antonio, Region de Valparaiso, Chile
More
Mar 18, 1931 08:02


91 years ago

7.2


35 km
289km / 180mi
Santiago, 24 km SE of San Antonio, Region de Valparaiso, Chile
More
Mar 25, 2012 22:37


10 years ago

7.1


41 km
135km / 84mi
23 km NE of Constitucion, Talca, Maule Region, Chile
More
Feb 14, 1962 06:36


60 years ago

7.1


30 km
241km / 150mi
16 km W of Angol, Provincia de Malleco, Araucania, Chile
More
May 22, 1960 10:30


62 years ago

7.1


25 km
231km / 143mi
Region del Biobio, 27 km W of Angol, Provincia de Malleco, Araucania, Chile
More
Mar 11, 2010 14:55


12 years ago

7.0


18 km
224km / 139mi
98 km W of Rancagua, Provincia de Cachapoal, O'Higgins, Chile
More
Dec 2, 1928 04:20


94 years ago

7.0


30 km
67km / 41mi
53 km SW of Constitucion, Talca, Maule Region, Chile
More
Feb 11, 2011 20:05


11 years ago

6.9


26 km
92km / 57mi
22 km N of Tomé, Provincia de Concepcion, Region del Biobio, Chile
More
Mar 11, 2010 14:39


12 years ago

6.9


11 km
221km / 137mi
Provincia de Cardenal Caro, 62 km NW of Santa Cruz, Provincia de Colchagua, O'Higgins, Chile
More
Apr 20, 1949 03:29


73 years ago

6.9


58 km
227km / 141mi
15 km N of Angol, Provincia de Malleco, Araucania, Chile
More
May 22, 1960 10:32


62 years ago

6.8


25 km
238km / 148mi
23 km E of Cañete, Provincia de Arauco, Region del Biobio, Chile
More
Aug 1, 2019 18:28


3 years ago

6.7


10 km
212km / 132mi
South Pacific Ocean, 86 km SW of San Antonio, Region de Valparaiso, Chile
More
Feb 14, 2011 03:40


11 years ago

6.7


21 km
76km / 47mi
39 km W of Constitucion, Talca, Maule Region, Chile
More
Mar 16, 2010 02:21


12 years ago

6.7


18 km
59km / 36mi
58 km N of Talcahuano, Provincia de Concepcion, Region del Biobio, Chile
More
Sep 29, 2019 15:57


3 years ago

6.6


25 km
64km / 40mi
South Pacific Ocean, 51 km W of Constitucion, Talca, Maule Region, Chile
More
Mar 5, 2010 11:47


12 years ago

6.6


18 km
104km / 64mi
24 km W of Talcahuano, Provincia de Concepcion, Region del Biobio, Chile
More
May 3, 2004 04:36


18 years ago

6.6


21 km
217km / 135mi
24 km SE of Lebu, Provincia de Arauco, Region del Biobio, Chile
More
Oct 18, 1961 16:51


61 years ago

6.6


20 km
114km / 71mi
10.9 km W of Talcahuano, Provincia de Concepcion, Region del Biobio, Chile
More
Mar 25, 1985 05:14


37 years ago

6.5


45 km
207km / 129mi
91 km SW of San Antonio, Region de Valparaiso, Chile
More
Jun 20, 2015 02:10


7 years ago

6.4


10 km
68km / 42mi
South Pacific Ocean, 53 km NW of Talcahuano, Provincia de Concepcion, Region del Biobio, Chile
More
Sep 21, 2021 13:14


34 weeks ago

6.3


10 km
116km / 72mi
South Pacific Ocean, 63 km W of Concepcion, Region del Biobio, Chile
More
Nov 4, 2016 16:20


6 years ago

6.3


78 km
260km / 161mi
37 km E of Curico, Maule Region, Chile
More
Jun 1, 2011 12:55


11 years ago

6.3


21 km
204km / 127mi
4.7 km NW of Lebu, Provincia de Arauco, Region del Biobio, Chile
More
Apr 21, 1990 18:54


32 years ago

6.3


12 km
140km / 87mi
15 km W of Coronel, Provincia de Concepcion, Region del Biobio, Chile
More
Mar 4, 1985 15:01


37 years ago

6.3


40 km
298km / 185mi
17 km S of Melipilla, Santiago, Chile
More
Mar 4, 1985 06:06


37 years ago

6.3


33 km
260km / 161mi
39 km SW of San Antonio, Region de Valparaiso, Chile
More
May 29, 1960 07:39


62 years ago

6.3


25 km
238km / 148mi
25 km S of Los Angeles, Biobio, Chile
More
Oct 30, 2013 02:51


9 years ago

6.2


18 km
75km / 46mi
South Pacific Ocean, 47 km W of Constitucion, Talca, Maule Region, Chile
More
Sep 9, 2010 07:28


12 years ago

6.2


16 km
144km / 89mi
24 km W of Coronel, Provincia de Concepcion, Region del Biobio, Chile
More
Mar 15, 2010 11:08


12 years ago

6.2


14 km
36km / 22mi
85 km SW of Constitucion, Talca, Maule Region, Chile
More
Feb 28, 2010 11:25


12 years ago

6.2


46 km
198km / 123mi
27 km W of Rauco, Provincia de Curico, Maule Region, Chile
More
Feb 27, 2010 06:52


12 years ago

6.2


35 km
129km / 80mi
55 km N of Constitucion, Talca, Maule Region, Chile
More
May 14, 1990 21:34


32 years ago

6.2


76 km
193km / 120mi
18 km SE of Linares, Maule Region, Chile
More
Mar 4, 1985 03:17


37 years ago

6.2


33 km
235km / 146mi
Provincia de Cardenal Caro, O'Higgins, 64 km SW of San Antonio, Region de Valparaiso, Chile
More
Mar 23, 1981 19:28


41 years ago

6.2


46 km
277km / 172mi
27 km W of San Antonio, Region de Valparaiso, Chile
More
Feb 27, 1962 12:40


60 years ago

6.2


25 km
225km / 140mi
30 km W of Angol, Provincia de Malleco, Araucania, Chile
More
May 23, 1960 09:52


62 years ago

6.2


25 km
238km / 148mi
22 km E of Cañete, Provincia de Arauco, Region del Biobio, Chile
More
May 21, 1960 13:00


62 years ago

6.2


25 km
183km / 114mi
17 km SE of Arauco, Region del Biobio, Chile
More
Nov 22, 2020 00:54


1 year 25 weeks ago

6.1


41 km
131km / 82mi
South Pacific Ocean, 98 km NW of Constitucion, Talca, Maule Region, Chile
More
Mar 18, 2015 18:27


7 years ago

6.1


20 km
45km / 28mi
South Pacific Ocean, 66 km NW of Tomé, Provincia de Concepcion, Region del Biobio, Chile
More
Jan 23, 2012 16:04


10 years ago

6.1


20 km
87km / 54mi
South Pacific Ocean, 24 km N of Tomé, Provincia de Concepcion, Region del Biobio, Chile
More
Feb 12, 2011 01:17


11 years ago

6.1


16 km
152km / 95mi
13 km SE of Chiguayante, Provincia de Concepcion, Region del Biobio, Chile
More
Mar 5, 2010 09:19


12 years ago

6.1


30 km
103km / 64mi
14 km NW of Talcahuano, Provincia de Concepcion, Region del Biobio, Chile
More
Mar 3, 2010 17:44


12 years ago

6.1


20 km
98km / 61mi
25 km NW of Talcahuano, Provincia de Concepcion, Region del Biobio, Chile
More
Feb 27, 2010 17:24


12 years ago

6.1


19 km
74km / 46mi
42 km N of Talcahuano, Provincia de Concepcion, Region del Biobio, Chile
More
Feb 27, 2010 08:25


12 years ago

6.1


35 km
150km / 93mi
65 km N of Constitucion, Talca, Maule Region, Chile
More
May 18, 1992 03:02


30 years ago

6.1


30 km
277km / 172mi
38 km W of San Antonio, Region de Valparaiso, Chile
More
May 11, 1961 08:38


61 years ago

6.1


25 km
198km / 123mi
17 km NW of Nacimiento, Biobio, Chile
More
Jun 1, 1960 05:03


62 years ago

6.1


35 km
244km / 152mi
28 km SW of Angol, Provincia de Malleco, Araucania, Chile
More
May 10, 1951 21:32


71 years ago

6.1


33 km
221km / 137mi
77 km SW of San Antonio, Region de Valparaiso, Chile
More
Nov 8, 2016 04:55


6 years ago

6.0


24 km
92km / 57mi
South Pacific Ocean, 25 km NW of Talcahuano, Provincia de Concepcion, Region del Biobio, Chile
More
Jul 16, 2011 00:26


11 years ago

6.0


20 km
265km / 165mi
32 km SW of San Antonio, Region de Valparaiso, Chile
More
Feb 13, 2011 10:35


11 years ago

6.0


17 km
106km / 66mi
10 km NW of Talcahuano, Provincia de Concepcion, Region del Biobio, Chile
More
Apr 23, 2010 10:03


12 years ago

6.0


32 km
205km / 127mi
26 km W of Nacimiento, Biobio, Chile
More
Apr 2, 2010 22:58


12 years ago

6.0


24 km
81km / 50mi
44 km N of Tomé, Provincia de Concepcion, Region del Biobio, Chile
More
Mar 28, 2010 21:38


12 years ago

6.0


30 km
42km / 26mi
330 km SW of Santiago de Chile, Provincia de Santiago, Chile
More
Mar 11, 2010 15:06


12 years ago

6.0


32 km
199km / 124mi
61 km W of Santa Cruz, Provincia de Colchagua, O'Higgins, Chile
More
Feb 27, 2010 23:12


12 years ago

6.0


35 km
195km / 121mi
43 km W of Santa Cruz, Provincia de Colchagua, O'Higgins, Chile
More
Feb 27, 2010 10:30


12 years ago

6.0


20 km
237km / 147mi
16 km SW of Cañete, Provincia de Arauco, Region del Biobio, Chile
More
Feb 22, 1996 13:40


26 years ago

6.0


43 km
287km / 179mi
10.4 km SW of San Antonio, Region de Valparaiso, Chile
More
May 28, 1960 11:05


62 years ago

6.0


25 km
230km / 143mi
10.3 km NW of Angol, Provincia de Malleco, Araucania, Chile
More
Jan 10, 2011 06:02


11 years ago

5.9


24 km
47km / 29mi
66 km SW of Constitucion, Talca, Maule Region, Chile
More
Oct 21, 2010 02:49


12 years ago

5.9


8 km
113km / 70mi
317 km SW of Santiago de Chile, Provincia de Santiago, Chile
More
Mar 16, 2010 03:04


12 years ago

5.9


42 km
85km / 53mi
26 km NW of Tomé, Provincia de Concepcion, Region del Biobio, Chile
More
Dec 1, 1973 17:00


48 years ago

5.9


35 km
86km / 54mi
188 km NW of Concepcion, Region del Biobio, Chile
More
Oct 30, 2013 02:29


9 years ago

5.8


13 km
69km / 43mi
South Pacific Ocean, 53 km W of Constitucion, Talca, Maule Region, Chile
More
Feb 13, 2011 08:51


11 years ago

5.8


21 km
97km / 60mi
19 km N of Talcahuano, Provincia de Concepcion, Region del Biobio, Chile
More
Sep 30, 2010 00:26


12 years ago

5.8


20 km
85km / 53mi
453 km SW of Santiago de Chile, Provincia de Santiago, Chile
More
Feb 28, 2022 01:15


11 weeks ago

5.7


10.8 km
141km / 88mi
South Pacific Ocean, 86 km W of Concepcion, Region del Biobio, Chile
More
Jul 28, 2011 19:50


11 years ago

5.7


35 km
39km / 24mi
80 km SW of Constitucion, Talca, Maule Region, Chile
More
Mar 1, 2010 02:44


12 years ago

5.7


23 km
124km / 77mi
33 km N of Constitucion, Talca, Maule Region, Chile
More
Feb 27, 2010 08:31


12 years ago

5.7


35 km
140km / 87mi
51 km N of Constitucion, Talca, Maule Region, Chile
More
Dec 21, 1978 01:13


43 years ago

5.7


47 km
115km / 71mi
Region del Biobio, 48 km NW of Chillan, Diguillin, Ñuble, Chile
More
Feb 18, 1971 07:47


51 years ago

5.7


28 km
117km / 73mi
21 km W of Concepcion, Region del Biobio, Chile
More
Jun 1, 2010 16:05


12 years ago

5.6


15 km
120km / 74mi
36 km W of Talcahuano, Provincia de Concepcion, Region del Biobio, Chile
More
Mar 28, 2010 21:43


12 years ago

5.6


22 km
70km / 43mi
45 km W of Constitucion, Talca, Maule Region, Chile
More
Mar 11, 2010 14:58


12 years ago

5.6


35 km
189km / 118mi
Provincia de Cardenal Caro, 57 km W of Santa Cruz, Provincia de Colchagua, O'Higgins, Chile
More
Feb 27, 2010 07:23


12 years ago

5.6


35 km
131km / 82mi
42 km W of Coronel, Provincia de Concepcion, Region del Biobio, Chile
More
Sep 17, 1995 07:25


27 years ago

5.6


7.7 km
60km / 37mi
160 km NW of Talcahuano, Provincia de Concepcion, Region del Biobio, Chile
More
Mar 17, 2020 08:12


2 years ago

5.5


31 km
57km / 36mi
South Pacific Ocean, 68 km N of Talcahuano, Provincia de Concepcion, Region del Biobio, Chile
More
Jul 4, 2017 16:06


5 years ago

5.5


10 km
38km / 24mi
South Pacific Ocean, 330 km SW of Santiago de Chile, Provincia de Santiago, Chile
More
Mar 29, 2013 07:30


9 years ago

5.5


14 km
83km / 52mi
South Pacific Ocean, 31 km W of Constitucion, Talca, Maule Region, Chile
More
Aug 6, 2011 13:22


11 years ago

5.5


32 km
25km / 15mi
365 km SW of Santiago de Chile, Provincia de Santiago, Chile
More
Feb 13, 2011 13:44


11 years ago

5.5


19 km
94km / 58mi
23 km NW of Talcahuano, Provincia de Concepcion, Region del Biobio, Chile
More
Mar 21, 2010 18:31


12 years ago

5.5


36 km
75km / 47mi
43 km N of Talcahuano, Provincia de Concepcion, Region del Biobio, Chile
More
Mar 19, 2010 08:54


12 years ago

5.5


14 km
24km / 15mi
348 km SW of Santiago de Chile, Provincia de Santiago, Chile
More
Mar 2, 2010 04:28


12 years ago

5.5


35 km
106km / 66mi
17 km W of Talcahuano, Provincia de Concepcion, Region del Biobio, Chile
More
Feb 27, 2010 17:43


12 years ago

5.5


38 km
97km / 60mi
14 km NW of Tomé, Provincia de Concepcion, Region del Biobio, Chile
More
Feb 27, 2010 15:44


12 years ago

5.5


35 km
50km / 31mi
67 km N of Talcahuano, Provincia de Concepcion, Region del Biobio, Chile
More
Feb 27, 2010 07:40


12 years ago

5.5


33 km
142km / 88mi
31 km NE of Constitucion, Talca, Maule Region, Chile
More
Mar 23, 1995 09:18


27 years ago

5.5


42 km
79km / 49mi
52 km N of Talcahuano, Provincia de Concepcion, Region del Biobio, Chile
More
Mar 22, 1995 20:05


27 years ago

5.5


39 km
79km / 49mi
53 km N of Talcahuano, Provincia de Concepcion, Region del Biobio, Chile
More
Aug 30, 2016 08:09


6 years ago

5.4


22 km
145km / 90mi
South Pacific Ocean, 52 km N of Constitucion, Talca, Maule Region, Chile
More
Map of earlier quakes