Light mag. 4.5 earthquake - South Pacific Ocean, 698 km northeast of Rotorua, Bay of Plenty, New Zealand, on Friday, Sep 23, 2022 at 10:31 am (GMT +12) -
I felt this quake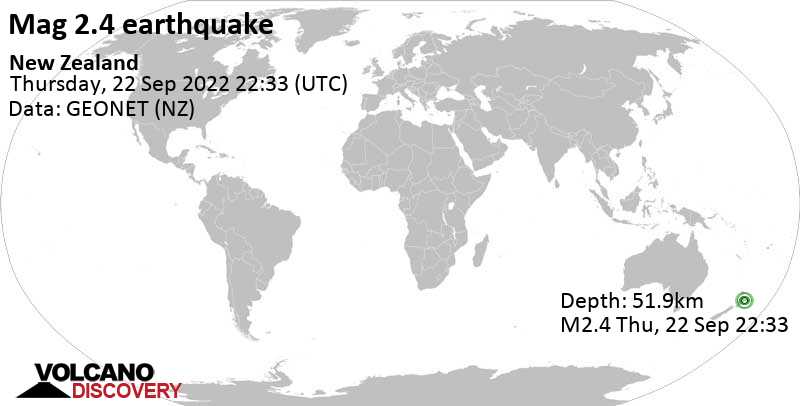 Light magnitude 4.5 earthquake at 300 km depth
22 Sep 22:35 UTC: First to report: GEONET (NZ) after 3 minutes.
22 Sep 22:36: Magnitude recalculated from 0.8 to 2.4.
22 Sep 22:37: Now using data updates from GEONET (NZ)
22 Sep 22:40: Magnitude recalculated from 4.4 to 4.5. Epicenter location corrected by 16 km (9.9 mi) towards W.
I felt this quake
I didn't feel it
Earthquake details
Date & time
Sep 22, 2022 22:31:59 UTC -
Local time

at epicenter

Friday, Sep 23, 2022 at 10:31 am (GMT +12)
Status
Confirmed
Magnitude
4.5
Depth
300.0 km
Epicenter

latitude / longitude

32.68583°S / 179.93343°W (South Pacific Ocean, Bay of Plenty, New Zealand)
Antipode
32.686°N / 0.067°E
Shaking

intensity

Very weak shaking
Felt
0 reports
Primary data source
GEONET (NZ) (Earthquake Commission and Geological Survey, New Zealand)
Nearest volcano
Volcano W (117 km / 73 mi)
Nearby

towns and cities

Weather at epicenter

at time of quake

Light Rain 17.1°C (63 F), humidity: 86%, wind: 1 m/s (2 kts) from NNE
Estimated

seismic

energy

released

3.5 x 1011 joules (98.6 megawatt hours, equivalent to 84.8 tons of TNT) | about seismic energy
If you felt this quake (or if you were near the epicenter),
please share your experience and submit a short "I felt it" report!
Other users would love to hear about it!
If you did NOT feel the quake
although you were in the area,
please report it
! Your contribution is valuable to earthquake science, seismic hazard analysis and mitigation efforts. You can use your device location or the map to indicate where you were during the earthquake. Thank you!
Data for the same earthquake reported by different agencies
Info: The more agencies report about the same quake and post similar data, the more confidence you can have in the data. It takes normally up to a few hours until earthquake parameters are calculated with near-optimum precision.
| | | | |
| --- | --- | --- | --- |
| Mag. | Depth | Location | Source |
| 4.5 | 300 km | New Zealand | GEONET (NZ) |
Seismograms
Seismic station: South Karori, New Zealand (SNZO/IU network)
| Distance from quake: 1070 km / 665 mi |
Show on map
|
Station Info
Seismogram (vertical component) around time of quake. Thin dotted red line indicates time of quake. Seismic waves arrive some time later, depending on distance. Source:
IRIS Buffer of Uniform Data (BUD) webtool
User reports for this quake
There are no user reports for this quake yet. If you felt it be the first to report it!
Earlier earthquakes in the same area since 1900
Date and time GMT
Mag
Depth
Distance
Location
Details
Jun 18, 2020 12:49


2 years ago

7.4


33 km
236km / 147mi
South Pacific Ocean, 736 km NE of Tauranga, Bay of Plenty, New Zealand
More
May 16, 2006 10:39


16 years ago

7.4


152 km
114km / 71mi
New Zealand
More
Jul 25, 1968 07:23


54 years ago

7.3


45 km
272km / 169mi
1332 km NE of Wellington, New Zealand
More
Jun 15, 2019 22:55


3 years ago

7.2


34 km
272km / 169mi
South Pacific Ocean, 892 km NE of Whangarei, Northland, New Zealand
More
Feb 9, 1978 21:35


45 years ago

7.2


33 km
330km / 205mi
New Zealand
More
Sep 26, 1968 18:02


54 years ago

7.1


50 km
299km / 186mi
1355 km NE of Wellington, New Zealand
More
Sep 10, 2018 04:18


4 years ago

7.0


10 km
117km / 73mi
South Pacific Ocean, 776 km NE of Tauranga, Bay of Plenty, New Zealand
More
May 14, 1989 00:59


33 years ago

7.0


44 km
280km / 174mi
New Zealand
More
May 20, 1968 07:13


54 years ago

7.0


55 km
272km / 169mi
1329 km NE of Wellington, New Zealand
More
Jul 9, 1998 14:45


24 years ago

6.9


130 km
260km / 162mi
New Zealand
More
May 3, 1997 16:46


25 years ago

6.9


108 km
112km / 70mi
New Zealand
More
Sep 26, 1985 07:27


37 years ago

6.9


52 km
253km / 157mi
south of the Kermadec Islands
More
May 20, 1968 20:05


54 years ago

6.9


50 km
279km / 174mi
1338 km NE of Wellington, New Zealand
More
Feb 17, 1987 06:16


36 years ago

6.8


10 km
60km / 37mi
New Zealand
More
May 20, 1963 11:38


59 years ago

6.8


65 km
278km / 173mi
1338 km NE of Wellington, New Zealand
More
Aug 14, 2022 13:44


7 weeks ago

6.7


33 km
193km / 120mi
South Pacific Ocean, New Zealand
More
May 4, 2003 13:15


19 years ago

6.7


62 km
289km / 179mi
New Zealand
More
Feb 13, 1949 18:24


74 years ago

6.7


15 km
224km / 139mi
1092 km NE of Wellington, New Zealand
More
Jul 11, 1943 02:10


79 years ago

6.7


15 km
183km / 114mi
1152 km NE of Wellington, New Zealand
More
Dec 26, 1936 22:52


86 years ago

6.7


35 km
279km / 173mi
1337 km NE of Wellington, New Zealand
More
May 16, 2005 03:54


17 years ago

6.6


34 km
55km / 34mi
New Zealand
More
Mar 21, 1990 16:46


33 years ago

6.6


145 km
194km / 121mi
New Zealand
More
Sep 7, 1987 11:57


35 years ago

6.6


33 km
257km / 160mi
New Zealand
More
Jun 20, 2021 17:05


1 year 14 weeks ago

6.5


15 km
349km / 217mi
South Pacific Ocean, New Zealand
More
Oct 14, 2014 04:12


8 years ago

6.5


82 km
248km / 154mi
South Pacific Ocean
More
Feb 2, 2014 09:26


9 years ago

6.5


40 km
199km / 124mi
South Pacific Ocean, 1139 km NE of Wellington, New Zealand
More
Sep 30, 2013 05:55


9 years ago

6.5


42 km
249km / 155mi
South Pacific Ocean, 1310 km NE of Wellington, New Zealand
More
May 16, 2009 00:53


13 years ago

6.5


43 km
163km / 101mi
1224 km NE of Wellington, New Zealand
More
Apr 20, 1999 19:04


23 years ago

6.5


96 km
122km / 76mi
New Zealand
More
Sep 7, 1993 02:48


29 years ago

6.5


10 km
126km / 78mi
New Zealand
More
Sep 13, 1986 15:17


36 years ago

6.5


215 km
96km / 59mi
New Zealand
More
Oct 11, 1970 03:16


52 years ago

6.5


25 km
196km / 122mi
New Zealand
More
Aug 21, 1968 17:56


54 years ago

6.5


15 km
240km / 149mi
1305 km NE of Wellington, New Zealand
More
Sep 4, 1967 03:52


55 years ago

6.5


236 km
164km / 102mi
1228 km NE of Wellington, New Zealand
More
Nov 13, 1957 17:22


65 years ago

6.5


30 km
73km / 45mi
1087 km NE of Wellington, New Zealand
More
Jun 11, 1957 14:49


65 years ago

6.5


63 km
297km / 184mi
1357 km NE of Wellington, New Zealand
More
Sep 1, 1937 08:38


85 years ago

6.5


45 km
68km / 42mi
1084 km NE of Wellington, New Zealand
More
Oct 4, 1936 23:53


86 years ago

6.5


35 km
312km / 194mi
1365 km NE of Wellington, New Zealand
More
Apr 3, 1932 20:39


91 years ago

6.5


35 km
275km / 171mi
New Zealand
More
Jun 19, 2019 07:01


3 years ago

6.4


60 km
300km / 187mi
South Pacific Ocean, 887 km N of Ruatoria, Gisborne District, New Zealand
More
Feb 2, 2014 09:26


9 years ago

6.4


33 km
207km / 129mi
South Pacific Ocean, 1142 km NE of Wellington, New Zealand
More
Sep 30, 2003 14:08


19 years ago

6.4


10 km
347km / 216mi
New Zealand
More
May 4, 2003 20:08


19 years ago

6.4


46 km
281km / 174mi
New Zealand
More
Jan 30, 1996 22:29


27 years ago

6.4


33 km
155km / 96mi
New Zealand
More
Dec 31, 1992 20:17


30 years ago

6.4


16 km
194km / 121mi
New Zealand
More
Aug 15, 1978 12:37


44 years ago

6.4


33 km
292km / 181mi
New Zealand
More
May 30, 1968 19:42


54 years ago

6.4


35 km
309km / 192mi
1348 km NE of Wellington, New Zealand
More
Aug 5, 1964 11:06


58 years ago

6.4


231 km
55km / 34mi
1120 km NE of Wellington, New Zealand
More
May 13, 1964 05:25


58 years ago

6.4


20 km
169km / 105mi
1139 km NE of Wellington, New Zealand
More
Apr 24, 1959 17:58


63 years ago

6.4


35 km
192km / 119mi
1252 km NE of Wellington, New Zealand
More
Jan 20, 1948 09:44


75 years ago

6.4


20 km
212km / 132mi
1055 km NE of Wellington, New Zealand
More
Dec 10, 2020 20:42


1 year 42 weeks ago

6.3


33 km
122km / 76mi
South Pacific Ocean, 666 km NE of Tauranga, Bay of Plenty, New Zealand
More
Oct 11, 2013 21:24


9 years ago

6.3


147 km
257km / 160mi
South Pacific Ocean, 1320 km NE of Wellington, New Zealand
More
May 20, 1989 16:01


33 years ago

6.3


29 km
289km / 180mi
New Zealand
More
Sep 17, 1984 09:08


38 years ago

6.3


10 km
163km / 101mi
New Zealand
More
Oct 10, 1970 21:59


52 years ago

6.3


25 km
210km / 130mi
New Zealand
More
Jun 16, 2019 05:17


3 years ago

6.2


25 km
257km / 160mi
South Pacific Ocean, 880 km NE of Whangarei, Northland, New Zealand
More
Sep 7, 2015 09:13


7 years ago

6.2


10 km
180km / 112mi
South Pacific Ocean, 1141 km NE of Wellington, New Zealand
More
Jun 2, 2004 08:50


18 years ago

6.2


43 km
50km / 31mi
New Zealand
More
Mar 9, 2004 22:56


19 years ago

6.2


18 km
155km / 96mi
New Zealand
More
Dec 1, 1996 23:09


26 years ago

6.2


356 km
242km / 150mi
New Zealand
More
Nov 11, 1996 00:47


26 years ago

6.2


33 km
84km / 52mi
New Zealand
More
Aug 8, 1992 01:08


30 years ago

6.2


392 km
125km / 77mi
New Zealand
More
Mar 17, 1989 19:33


34 years ago

6.2


59 km
245km / 152mi
south of the Kermadec Islands
More
Jul 16, 1975 18:17


47 years ago

6.2


46 km
326km / 203mi
New Zealand
More
Oct 11, 1970 05:38


52 years ago

6.2


25 km
204km / 127mi
New Zealand
More
Sep 5, 2022 11:19


3 weeks ago

6.1


33 km
189km / 117mi
South Pacific Ocean, New Zealand
More
Aug 29, 2022 18:10


4 weeks ago

6.1


33 km
139km / 86mi
South Pacific Ocean, New Zealand
More
Jun 17, 2019 06:02


3 years ago

6.1


10 km
307km / 191mi
South Pacific Ocean, 871 km NE of Ruatoria, Gisborne District, New Zealand
More
Mar 6, 2019 15:46


4 years ago

6.1


10 km
217km / 135mi
South Pacific Ocean, 841 km NE of Tauranga, Bay of Plenty, New Zealand
More
Feb 18, 2013 12:19


10 years ago

6.1


34 km
281km / 175mi
South Pacific Ocean, 1340 km NE of Wellington, New Zealand
More
Oct 7, 2011 08:58


11 years ago

6.1


36 km
86km / 53mi
1119 km NE of Wellington, New Zealand
More
Nov 11, 2003 15:39


19 years ago

6.1


33 km
232km / 144mi
New Zealand
More
Nov 11, 2003 13:44


19 years ago

6.1


33 km
246km / 153mi
New Zealand
More
Mar 11, 1997 05:25


26 years ago

6.1


10 km
274km / 170mi
New Zealand
More
Jan 30, 1996 22:00


27 years ago

6.1


14 km
160km / 99mi
New Zealand
More
Jun 19, 1986 23:18


36 years ago

6.1


10 km
283km / 176mi
New Zealand
More
Sep 22, 1984 21:44


38 years ago

6.1


44 km
161km / 100mi
New Zealand
More
Aug 30, 1984 16:06


38 years ago

6.1


33 km
90km / 56mi
New Zealand
More
Jun 29, 1976 18:30


46 years ago

6.1


48 km
232km / 144mi
New Zealand
More
Jul 16, 1975 19:38


47 years ago

6.1


37 km
311km / 193mi
New Zealand
More
Sep 20, 2021 18:08


1 year 1 weeks ago

6.0


406 km
85km / 53mi
South Pacific Ocean, New Zealand
More
Mar 7, 2021 07:56


1 year 29 weeks ago

6.0


33 km
234km / 146mi
South Pacific Ocean, New Zealand
More
Mar 7, 2019 16:29


4 years ago

6.0


10 km
145km / 90mi
South Pacific Ocean, 765 km NE of Tauranga, Bay of Plenty, New Zealand
More
May 18, 2018 01:45


4 years ago

6.0


10 km
270km / 168mi
South Pacific Ocean, 558 km NE of Gisborne, New Zealand
More
Dec 8, 2017 02:09


5 years ago

6.0


33 km
243km / 151mi
South Pacific Ocean, 853 km NE of Whangarei, Northland, New Zealand
More
Jun 25, 2015 18:45


7 years ago

6.0


10 km
182km / 113mi
South Pacific Ocean, 1192 km NE of Wellington, New Zealand
More
Jul 18, 2014 18:23


8 years ago

6.0


33 km
245km / 152mi
South Pacific Ocean
More
Aug 12, 2013 04:16


9 years ago

6.0


325 km
232km / 144mi
South Pacific Ocean, 1289 km NE of Wellington, New Zealand
More
Dec 15, 2011 10:10


11 years ago

6.0


32 km
78km / 49mi
1097 km NE of Wellington, New Zealand
More
May 24, 2009 00:58


13 years ago

6.0


4 km
251km / 156mi
1282 km NE of Wellington, New Zealand
More
Feb 17, 2009 03:30


14 years ago

6.0


13 km
251km / 156mi
1316 km NE of Wellington, New Zealand
More
May 17, 2007 19:29


15 years ago

6.0


41 km
279km / 173mi
New Zealand
More
Mar 7, 2004 11:08


19 years ago

6.0


7 km
167km / 104mi
New Zealand
More
Nov 27, 2001 00:53


21 years ago

6.0


10 km
141km / 87mi
New Zealand
More
Sep 10, 1999 19:37


23 years ago

6.0


33 km
156km / 97mi
New Zealand
More
Mar 28, 1982 03:52


41 years ago

6.0


79 km
180km / 112mi
New Zealand
More
Feb 10, 1978 00:56


45 years ago

6.0


33 km
320km / 199mi
New Zealand
More
Jul 22, 1977 17:16


45 years ago

6.0


31 km
125km / 78mi
New Zealand
More
Jul 28, 2021 21:06


1 year 9 weeks ago

5.9


339 km
182km / 113mi
South Pacific Ocean, New Zealand
More
Map of earlier quakes