Light mag. 3.8 earthquake - North Pacific Ocean, 75 km southeast of Crucecita, Mexico, on Thursday, Sep 22, 2022 at 3:48 pm (GMT -6) -
I felt this quake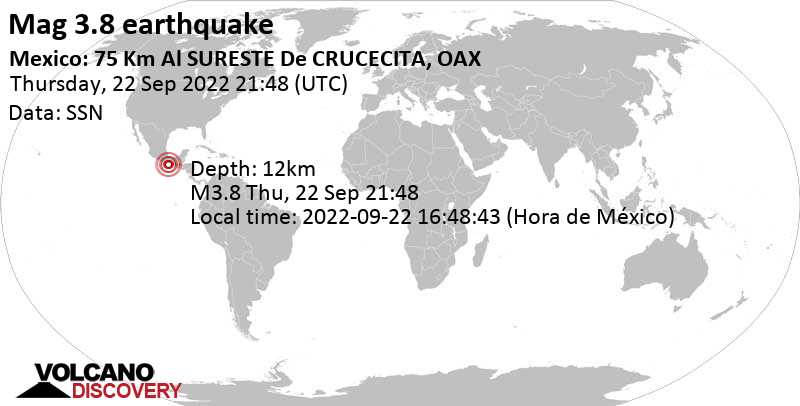 Light magnitude 3.8 earthquake at 12 km depth
23 Sep 01:06 UTC: First to report: RaspberryShake after 3 hours.
23 Sep 01:07: Now using data updates from SSN
I felt this quake
I didn't feel it
Earthquake details
Date & time
Sep 22, 2022 21:48:43 UTC -
Local time

at epicenter

Thursday, Sep 22, 2022 at 3:48 pm (GMT -6)
Status
Confirmed
Magnitude
3.8
Depth
12.0 km
Epicenter

latitude / longitude

15.26°N / 95.68°W (North Pacific Ocean, Mexico)
Antipode
15.26°S / 84.32°E
Shaking

intensity

Light shaking near epicenter
Felt
0 reports
Primary data source
SSN (Servicio Sismológico Nacional)
Nearby

towns and cities

69 km (43 mi) SSE of Playa Grande (pop: 211) |

Show on map

| Quakes nearby
75 km (46 mi) SE of Crucecita (pop: 15,100) |

Show on map

| Quakes nearby
81 km (50 mi) S of Santiago Astata (pop: 2,210) |

Show on map

| Quakes nearby
94 km (58 mi) SE of Huatulco (pop: 7,410) |

Show on map

| Quakes nearby
97 km (60 mi) SSE of Merced del Potrero (pop: 2,180) |

Show on map

| Quakes nearby
98 km (61 mi) ESE of Puerto Angel (pop: 2,650) |

Show on map

| Quakes nearby
99 km (61 mi) SSW of Mazatlan (pop: 2,630) |

Show on map

| Quakes nearby
591 km (367 mi) SE of Mexico (pop: 12,294,200) |

Show on map

| Quakes nearby
Estimated

seismic

energy

released

3.2 x 1010 joules (8.78 megawatt hours, equivalent to 7.56 tons of TNT) | about seismic energy
If you felt this quake (or if you were near the epicenter),
please share your experience and submit a short "I felt it" report!
Other users would love to hear about it!
If you did NOT feel the quake
although you were in the area,
please report it
! Your contribution is valuable to earthquake science, seismic hazard analysis and mitigation efforts. You can use your device location or the map to indicate where you were during the earthquake. Thank you!
Data for the same earthquake reported by different agencies
Info: The more agencies report about the same quake and post similar data, the more confidence you can have in the data. It takes normally up to a few hours until earthquake parameters are calculated with near-optimum precision.
| | | | |
| --- | --- | --- | --- |
| Mag. | Depth | Location | Source |
| 3.8 | 12 km | Mexico: 75 Km Al SURESTE De CRUCECITA, OAX | SSN |
| 3.8 | 12 km | Near Coast of Oaxaca, Mexico | RaspberryShake |
| 3.8 | 12 km | OFFSHORE OAXACA, MEXICO | EMSC |
Seismograms
Seismic station: COMITAN (CCIG/MX network)
| Distance from quake: 396 km / 246 mi |
Show on map
|
Station Info
Seismogram (vertical component) around time of quake. Thin dotted red line indicates time of quake. Seismic waves arrive some time later, depending on distance. Source:
IRIS Buffer of Uniform Data (BUD) webtool
User reports for this quake
There are no user reports for this quake yet. If you felt it be the first to report it!
Earlier earthquakes in the same area since 1900
Date and time GMT
Mag
Depth
Distance
Location
Details
Sep 8, 2017 04:49


5 years ago

8.1


60 km
205km / 128mi
North Pacific Ocean, 88 km SW of Topon, Pijijiapan, Chiapas, Mexico
More
Jun 17, 1928 03:19


94 years ago

7.9


20 km
141km / 88mi
17 km S of Miahuatlan de Porfirio Diaz, Oaxaca, Mexico
More
Apr 15, 1907 06:08


116 years ago

7.8


30 km
223km / 138mi
12 km SW of Santo Domingo Teojomulco, Oaxaca, Mexico
More
Nov 29, 1978 19:52


44 years ago

7.7


18 km
128km / 80mi
San Agustin Loxicha, 36 km S of Miahuatlan de Porfirio Diaz, Oaxaca, Mexico
More
Jan 14, 1903 01:47


120 years ago

7.7


0 km
251km / 156mi
138 km SW of Puerto Escondido, San Pedro Mixtepec -Dto. 22 -, Oaxaca, Mexico
More
Jan 15, 1931 01:50


92 years ago

7.6


35 km
130km / 81mi
33 km S of Miahuatlan de Porfirio Diaz, Oaxaca, Mexico
More
Mar 22, 1928 04:17


95 years ago

7.6


15 km
108km / 67mi
11 km N of Merced del Potrero, San Miguel del Puerto, Oaxaca, Mexico
More
Sep 30, 1999 16:31


23 years ago

7.5


61 km
161km / 100mi
San Sebastian Coatlan, 26 km NE of Puerto Escondido, Mexico
More
Oct 9, 1928 03:01


94 years ago

7.5


25 km
221km / 137mi
4.8 km N of Santa Maria Acatepec, Mexico
More
Aug 23, 1965 19:46


57 years ago

7.4


25 km
93km / 58mi
5.4 km S of Santa Maria Zapotitlan, Santa Maria Ecatepec, Oaxaca, Mexico
More
Jun 23, 2020 15:29


2 years ago

7.3


35 km
98km / 61mi
15 km NE of Merced del Potrero, San Miguel del Puerto, Oaxaca, Mexico
More
Aug 2, 1968 14:06


54 years ago

7.3


25 km
261km / 162mi
3.2 km NW of El Huamuche, Santiago Ixtayutla, Oaxaca, Mexico
More
Oct 21, 1995 02:38


27 years ago

7.2


159 km
295km / 183mi
13 km NW of Ocozocoautla de Espinosa, Chiapas, Mexico
More
Feb 16, 2018 23:39


5 years ago

7.0


10 km
261km / 162mi
13 km SW of Llano Tigre, Santiago Amoltepec, Oaxaca, Mexico
More
Dec 29, 1917 22:50


105 years ago

6.9


20 km
94km / 58mi
8.6 km S of Puerto Angel, San Pedro Pochutla, Oaxaca, Mexico
More
Apr 7, 2011 13:11


11 years ago

6.6


166 km
260km / 161mi
1.6 km SE of Bajo Grande, Uxpanapa, Veracruz, Mexico
More
Nov 13, 1972 04:43


50 years ago

6.6


15 km
79km / 49mi
65 km S of Salina Cruz, Oaxaca, Mexico
More
May 24, 1959 19:17


63 years ago

6.6


65 km
289km / 180mi
1.3 km NW of Santa Catarina Adéquez, Asuncion Nochixtlan, Oaxaca, Mexico
More
Feb 11, 1941 14:35


82 years ago

6.6


15 km
91km / 57mi
124 km S of Salina Cruz, Oaxaca, Mexico
More
Feb 12, 2008 12:50


15 years ago

6.5


83 km
191km / 119mi
5.5 km E of Yerba Santa, Santo Domingo Zanatepec, Oaxaca, Mexico
More
Jul 4, 1994 21:36


28 years ago

6.5


15 km
181km / 113mi
112 km S of Puerto Escondido, San Pedro Mixtepec -Dto. 22 -, Oaxaca, Mexico
More
Sep 30, 1993 18:27


29 years ago

6.5


19 km
107km / 66mi
100 km SE of Salina Cruz, Oaxaca, Mexico
More
Feb 3, 1998 03:02


25 years ago

6.4


33 km
96km / 60mi
22 km NW of Crucecita, Santa Maria Huatulco, Oaxaca, Mexico
More
Nov 28, 1968 10:36


54 years ago

6.4


20 km
96km / 60mi
127 km S of Salina Cruz, Oaxaca, Mexico
More
Jun 30, 2010 07:22


12 years ago

6.3


20 km
258km / 160mi
2.9 km E of San Agustin, Oaxaca, Mexico
More
Jun 7, 1998 23:20


24 years ago

6.3


87 km
218km / 136mi
15 km S of Tonala, Chiapas, Mexico
More
Jan 24, 1983 08:17


40 years ago

6.3


57 km
110km / 68mi
5.1 km SW of Salina Cruz, Oaxaca, Mexico
More
Jun 22, 1979 06:30


43 years ago

6.3


107 km
225km / 140mi
Santa Maria Chimalapa, 76 km NE of Juchitan de Zaragoza, Oaxaca, Mexico
More
May 13, 1954 14:46


68 years ago

6.3


62 km
171km / 106mi
6.2 km E of San Pedro Quiatoni, Oaxaca, Mexico
More
Jan 16, 1931 19:19


92 years ago

6.3


30 km
125km / 78mi
36 km S of Miahuatlan de Porfirio Diaz, Oaxaca, Mexico
More
Feb 25, 1996 09:17


27 years ago

6.2


12 km
259km / 161mi
Santa Maria Huazolotitlan, 28 km SE of Santiago Pinotepa Nacional, Mexico
More
Jul 6, 2007 01:09


15 years ago

6.1


113 km
218km / 135mi
16 km NW of Arriaga, Chiapas, Mexico
More
Dec 4, 2000 04:43


22 years ago

6.1


33 km
191km / 119mi
137 km S of Tonala, Chiapas, Mexico
More
May 5, 1999 22:41


23 years ago

6.1


33 km
147km / 91mi
233 km S of Juchitan de Zaragoza, Oaxaca, Mexico
More
Sep 16, 1989 23:20


33 years ago

6.1


108 km
255km / 159mi
21 km S of Cintalapa de Figueroa, Chiapas, Mexico
More
Mar 12, 1987 12:18


36 years ago

6.1


40 km
122km / 76mi
90 km SE of Salina Cruz, Oaxaca, Mexico
More
Oct 13, 1984 17:18


38 years ago

6.1


31 km
150km / 93mi
132 km SW of Tonala, Chiapas, Mexico
More
Nov 12, 1942 04:55


80 years ago

6.1


60 km
214km / 133mi
2.1 km SE of Ramon Escobar Balboa, San Miguel Chimalapa, Oaxaca, Mexico
More
Feb 17, 2018 00:36


5 years ago

6.0


10 km
248km / 154mi
7.2 km S of Patria Nueva, Santiago Jamiltepec, Oaxaca, Mexico
More
Sep 23, 2017 12:53


5 years ago

6.0


10 km
183km / 114mi
1.8 km W of Cieneguilla, Asuncion Ixtaltepec, Oaxaca, Mexico
More
Sep 8, 2017 08:34


5 years ago

6.0


10 km
169km / 105mi
North Pacific Ocean, 90 km SW of Manuel Avila Camacho (Ponte Duro), Mexico
More
Sep 6, 1995 22:48


27 years ago

6.0


12 km
157km / 98mi
138 km S of Tonala, Chiapas, Mexico
More
Sep 16, 1972 09:14


50 years ago

6.0


30 km
70km / 43mi
65 km S of Crucecita, Santa Maria Huatulco, Oaxaca, Mexico
More
Apr 30, 1970 12:51


52 years ago

6.0


35 km
269km / 167mi
136 km SW of Tapachula de Cordova y Ordoñez, Chiapas, Mexico
More
Sep 19, 1964 05:08


58 years ago

6.0


25 km
149km / 93mi
149 km SW of Tonala, Chiapas, Mexico
More
Jul 9, 1951 00:03


71 years ago

6.0


25 km
128km / 80mi
San Agustin Loxicha, 38 km S of Miahuatlan de Porfirio Diaz, Oaxaca, Mexico
More
Aug 18, 2004 09:03


18 years ago

5.9


63 km
152km / 94mi
8.1 km E of Juchitan de Zaragoza, Oaxaca, Mexico
More
Mar 15, 1987 05:11


36 years ago

5.9


40 km
124km / 77mi
91 km SE of Salina Cruz, Oaxaca, Mexico
More
Aug 27, 1970 19:44


52 years ago

5.9


15 km
15km / 9mi
60 km SE of Crucecita, Santa Maria Huatulco, Oaxaca, Mexico
More
Oct 16, 1953 09:53


69 years ago

5.9


25 km
163km / 102mi
1.9 km S of Santo Domingo Coatlan, San Jeronimo Coatlan, Oaxaca, Mexico
More
Aug 13, 2011 07:33


11 years ago

5.8


6 km
145km / 90mi
206 km S of Salina Cruz, Oaxaca, Mexico
More
Aug 24, 1965 01:01


57 years ago

5.8


25 km
87km / 54mi
13 km NW of Crucecita, Santa Maria Huatulco, Oaxaca, Mexico
More
Feb 17, 1957 15:46


66 years ago

5.8


40 km
126km / 79mi
39 km S of Miahuatlan de Porfirio Diaz, Oaxaca, Mexico
More
Feb 9, 2010 00:47


13 years ago

5.7


40 km
145km / 90mi
Santa Maria Colotepec, 23 km E of Puerto Escondido, Mexico
More
Feb 22, 1983 09:36


40 years ago

5.7


37 km
141km / 88mi
Santa Maria Xadani, 9 km S of Juchitan de Zaragoza, Oaxaca, Mexico
More
Nov 29, 1978 20:49


44 years ago

5.7


22 km
145km / 90mi
Santa Lucia Miahuatlan, 17 km S of Miahuatlan de Porfirio Diaz, Oaxaca, Mexico
More
Mar 20, 2020 09:03


3 years ago

5.6


1 km
156km / 97mi
5.2 km W of Santiago, Oaxaca, Mexico
More
Jan 5, 2020 04:40


3 years ago

5.6


10 km
173km / 107mi
1.9 km NW of San Francisco del Mar, Oaxaca, Mexico
More
Jun 10, 2018 01:03


4 years ago

5.6


10 km
101km / 63mi
North Pacific Ocean, 139 km SE of Puerto Escondido, Mexico
More
Sep 18, 2017 14:19


5 years ago

5.6


47 km
136km / 84mi
North Pacific Ocean, 93 km SW of Miguel Hidalgo Numero Dos (Veinte de Noviembre), Mexico
More
Sep 8, 2017 14:44


5 years ago

5.6


10 km
154km / 96mi
North Pacific Ocean, 78 km SW of Tonala, Chiapas, Mexico
More
Jun 7, 2002 17:00


20 years ago

5.6


33 km
148km / 92mi
30 km SW of Miahuatlan de Porfirio Diaz, Oaxaca, Mexico
More
Apr 7, 1986 22:43


37 years ago

5.6


48 km
138km / 86mi
94 km SW of Tonala, Chiapas, Mexico
More
Jun 25, 1974 08:44


48 years ago

5.6


30 km
31km / 19mi
86 km S of Salina Cruz, Oaxaca, Mexico
More
Jul 8, 1972 12:10


50 years ago

5.6


28 km
182km / 113mi
38 km N of Puerto Escondido, San Pedro Mixtepec -Dto. 22 -, Oaxaca, Mexico
More
Oct 25, 1955 16:34


67 years ago

5.6


25 km
79km / 49mi
0.6 km SE of Guayacan, San Pedro Huamelula, Oaxaca, Mexico
More
May 25, 2022 21:43


18 weeks ago

5.5


12 km
100km / 62mi
41 km N of Crucecita, Santa Maria Huatulco, Oaxaca, Mexico
More
Dec 8, 2020 17:56


1 year 42 weeks ago

5.5


53 km
52km / 32mi
North Pacific Ocean, 63 km S of Salina Cruz, Oaxaca, Mexico
More
Sep 10, 2017 03:07


5 years ago

5.5


10 km
129km / 80mi
North Pacific Ocean, 96 km SW of San Luqueño, Tonala, Chiapas, Mexico
More
Sep 9, 2017 15:30


5 years ago

5.5


10 km
42km / 26mi
North Pacific Ocean, 73 km S of Salina Cruz, Oaxaca, Mexico
More
Sep 8, 2017 11:25


5 years ago

5.5


10 km
113km / 70mi
North Pacific Ocean, 64 km SE of Salina Cruz, Oaxaca, Mexico
More
Jan 13, 2004 21:28


19 years ago

5.5


28 km
164km / 102mi
44 km SW of Miahuatlan de Porfirio Diaz, Oaxaca, Mexico
More
Oct 11, 2002 14:41


20 years ago

5.5


33 km
46km / 29mi
78 km SW of Salina Cruz, Oaxaca, Mexico
More
Jun 26, 2002 07:14


20 years ago

5.5


33 km
137km / 85mi
170 km SW of Tonala, Chiapas, Mexico
More
Dec 13, 1984 08:10


38 years ago

5.5


44 km
134km / 83mi
San Mateo Rio Hondo, 20 km SE of Miahuatlan de Porfirio Diaz, Oaxaca, Mexico
More
Feb 5, 1983 23:41


40 years ago

5.5


33 km
109km / 68mi
17 km SE of Salina Cruz, Oaxaca, Mexico
More
Jan 24, 1983 13:04


40 years ago

5.5


66 km
117km / 73mi
4.8 km NW of Salina Cruz, Oaxaca, Mexico
More
Jan 16, 2022 23:31


37 weeks ago

5.4


43 km
54km / 34mi
North Pacific Ocean, Mexico
More
Jul 24, 2020 03:19


2 years ago

5.4


10 km
42km / 26mi
North Pacific Ocean, 35 km SE of Crucecita, Santa Maria Huatulco, Oaxaca, Mexico
More
Jun 24, 2020 02:33


2 years ago

5.4


17 km
90km / 56mi
2.8 km E of San Miguel del Puerto, Oaxaca, Mexico
More
Jan 21, 2019 11:57


4 years ago

5.4


10 km
125km / 78mi
North Pacific Ocean, 64 km SE of Salina Cruz, Oaxaca, Mexico
More
Jun 14, 2017 23:58


5 years ago

5.4


10 km
147km / 91mi
North Pacific Ocean, 49 km S of Puerto Escondido, Mexico
More
Aug 5, 2002 01:25


20 years ago

5.4


10 km
76km / 47mi
San Pedro Huamelula, 64 km SW of Salina Cruz, Oaxaca, Mexico
More
Mar 3, 1990 08:41


33 years ago

5.4


88 km
176km / 109mi
San Francisco del Mar, 83 km SE of Juchitan de Zaragoza, Oaxaca, Mexico
More
Aug 26, 1984 05:02


38 years ago

5.4


43 km
84km / 52mi
30 km SW of Salina Cruz, Oaxaca, Mexico
More
May 10, 1984 15:56


38 years ago

5.4


35 km
119km / 74mi
135 km S of Juchitan de Zaragoza, Oaxaca, Mexico
More
Dec 28, 1978 19:48


44 years ago

5.4


33 km
122km / 76mi
San Pedro el Alto, 34 km S of Miahuatlan de Porfirio Diaz, Oaxaca, Mexico
More
Apr 11, 2018 07:30


4 years ago

5.3


10 km
123km / 76mi
North Pacific Ocean, 62 km SE of Salina Cruz, Oaxaca, Mexico
More
Oct 14, 2017 00:20


5 years ago

5.3


10 km
183km / 114mi
44 km E of Juchitan de Zaragoza, Oaxaca, Mexico
More
Sep 8, 2017 05:33


5 years ago

5.3


10 km
106km / 66mi
North Pacific Ocean, 107 km SE of Salina Cruz, Oaxaca, Mexico
More
Sep 8, 2017 05:17


5 years ago

5.3


60 km
133km / 83mi
North Pacific Ocean, 83 km SW of Paredon, Tonala, Chiapas, Mexico
More
Oct 11, 2014 16:46


8 years ago

5.3


32 km
102km / 63mi
10.8 km S of San Miguel Tenango, Oaxaca, Mexico
More
Sep 21, 2010 14:42


12 years ago

5.3


28 km
45km / 28mi
70 km SE of Santiago Astata, Oaxaca, Mexico
More
Jul 30, 2008 10:23


14 years ago

5.3


50 km
91km / 57mi
0.6 km SW of El Mamey, San Miguel del Puerto, Oaxaca, Mexico
More
Jun 7, 2002 16:02


20 years ago

5.3


33 km
142km / 88mi
31 km S of Miahuatlan de Porfirio Diaz, Oaxaca, Mexico
More
Mar 23, 1990 14:07


33 years ago

5.3


63 km
116km / 72mi
San Juan Ozolotepec, 41 km SE of Miahuatlan de Porfirio Diaz, Oaxaca, Mexico
More
Jan 24, 1983 09:33


40 years ago

5.3


67 km
136km / 85mi
Santa Maria Mixtequilla, 22 km W of Juchitan de Zaragoza, Oaxaca, Mexico
More
Nov 29, 1978 20:04


44 years ago

5.3


33 km
152km / 94mi
San Miguel Coatlan, 25 km SW of Miahuatlan de Porfirio Diaz, Oaxaca, Mexico
More
Jun 25, 1974 05:00


48 years ago

5.3


25 km
41km / 25mi
79 km S of Salina Cruz, Oaxaca, Mexico
More
Mar 1, 2022 19:35


30 weeks ago

5.2


41 km
125km / 78mi
44 km S of Miahuatlan de Porfirio Diaz, Oaxaca, Mexico
More
Map of earlier quakes