Moderate mag. 4.6 earthquake - 16 km southeast of Sayat, Provincia de Lebap, Turkmenistan, on Thursday, Jan 26, 2023 at 2:51 am (GMT +5) -
Updated: Jan 27, 2023 12:00 GMT
-
I felt this quake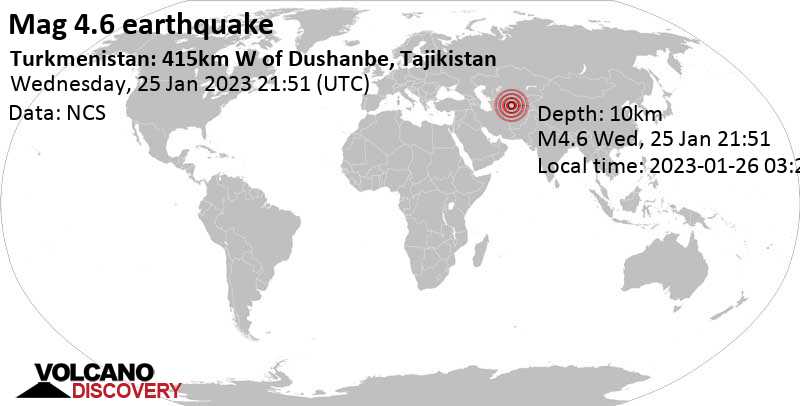 Moderate magnitude 4.6 earthquake at 10 km depth
25 Jan 21:59 UTC: First to report: NCS after 8 minutes.
I felt this quake
I didn't feel it
Earthquake details
Date & time
Jan 25, 2023 21:51:45 UTC -
Local time

at epicenter

Thursday, Jan 26, 2023 at 2:51 am (GMT +5)
Status
Confirmed
Magnitude
4.6
Depth
10.0 km
Epicenter

latitude / longitude

38.6813°N / 64.0098°E (Provincia de Lebap, Turkmenistan)
Antipode
38.681°S / 115.99°W
Shaking

intensity

Moderate shaking near epicenter
Felt
0 reports
Primary data source
NCS (National Center for Seismology)
Nearby

towns and cities

16 km (10 mi) SE of Sayat (Lebap) (pop: 17,800) |

Show on map

| Quakes nearby
57 km (36 mi) SE of Turkmenabat (Lebap) (pop: 234,800) |

Show on map

| Quakes nearby
64 km (40 mi) SSE of Farap (Lebap) (pop: 14,500) |

Show on map

| Quakes nearby
84 km (52 mi) SSE of Olot Shahri (Bukhara, Uzbekistan) (pop: 12,000) |

Show on map

| Quakes nearby
96 km (60 mi) S of Karakul' (Bukhara, Uzbekistan) (pop: 22,500) |

Show on map

| Quakes nearby
141 km (88 mi) NW of Atamyrat (Lebap) (pop: 33,200) |

Show on map

| Quakes nearby
200 km (124 mi) NE of Bayramaly (Mary) (pop: 75,800) |

Show on map

| Quakes nearby
498 km (309 mi) ENE of Ashkhabad (Ashgabat) (pop: 727,700) |

Show on map

| Quakes nearby
Weather at epicenter

at time of quake

Clear Sky -3.6°C (25 F), humidity: 77%, wind: 2 m/s (3 kts) from ESE
Estimated

seismic

energy

released

5 x 1011 joules (139 megawatt hours, equivalent to 120 tons of TNT) | about seismic energy
If you felt this quake (or if you were near the epicenter),
please share your experience and submit a short "I felt it" report!
Other users would love to hear about it!
If you did NOT feel the quake
although you were in the area,
please report it
! Your contribution is valuable to earthquake science, seismic hazard analysis and mitigation efforts. You can use your device location or the map to indicate where you were during the earthquake. Thank you!
Data for the same earthquake reported by different agencies
Info: The more agencies report about the same quake and post similar data, the more confidence you can have in the data. It takes normally up to a few hours until earthquake parameters are calculated with near-optimum precision.
| | | | |
| --- | --- | --- | --- |
| Mag. | Depth | Location | Source |
| 4.6 | 10 km | Turkmenistan: 415km W of Dushanbe, Tajikistan | NCS |
Seismograms
Seismic station: Batken, Kyrgyzstan (BTK/KR network)
| Distance from quake: 605 km / 376 mi |
Show on map
|
Station Info
Seismogram (vertical component) around time of quake. Thin dotted red line indicates time of quake. Seismic waves arrive some time later, depending on distance. Bandpass filter applied: 0.2-5.0 Hz. Source:
IRIS Buffer of Uniform Data (BUD) webtool
User reports for this quake
There are no user reports for this quake yet. If you felt it be the first to report it!
Earlier earthquakes in the same area since 1900
Date and time GMT
Mag
Depth
Distance
Location
Details
Mar 19, 1984 20:28


39 years ago

7.0


15 km
191km / 119mi
97 km NW of Karakul', Bukhara, Uzbekistan
More
May 17, 1976 02:58


47 years ago

7.0


10 km
195km / 121mi
106 km NW of Buchara, Bukhara, Uzbekistan
More
Apr 8, 1976 02:40


47 years ago

7.0


33 km
182km / 113mi
82 km NW of Buchara, Bukhara, Uzbekistan
More
Jan 1, 1911 10:18


112 years ago

6.7


35 km
270km / 168mi
Shōr Tepah, 70 km NW of Balkh, Afghanistan
More
Nov 22, 2014 13:45


8 years ago

6.2


10 km
338km / 210mi
33 km SW of Balkh, Afghanistan
More
Apr 8, 1976 02:59


47 years ago

6.2


33 km
166km / 103mi
69 km NW of Buchara, Bukhara, Uzbekistan
More
Jun 4, 1978 19:30


45 years ago

6.0


33 km
192km / 119mi
96 km NW of Buchara, Bukhara, Uzbekistan
More
Jul 24, 2005 18:05


18 years ago

5.1


24 km
111km / 69mi
28 km SW of Buchara, Bukhara, Uzbekistan
More
Apr 11, 1983 08:31


40 years ago

4.9


33 km
62km / 39mi
64 km SW of Kogon Shahri, Bukhara, Uzbekistan
More
Jul 2, 1983 11:42


40 years ago

4.8


33 km
71km / 44mi
54 km S of Kogon Shahri, Bukhara, Uzbekistan
More
Jun 15, 1983 13:34


40 years ago

4.8


33 km
71km / 44mi
54 km S of Kogon Shahri, Bukhara, Uzbekistan
More
Apr 22, 1983 03:56


40 years ago

4.8


33 km
68km / 42mi
58 km SW of Kogon Shahri, Bukhara, Uzbekistan
More
Apr 3, 1984 08:15


39 years ago

4.7


33 km
132km / 82mi
41 km E of Kogon Shahri, Bukhara, Uzbekistan
More
Aug 4, 1983 05:22


40 years ago

4.7


33 km
120km / 75mi
23 km W of Koson, Qashqadaryo, Uzbekistan
More
Jul 11, 1983 14:47


40 years ago

4.7


33 km
68km / 42mi
60 km S of Kogon Shahri, Bukhara, Uzbekistan
More
May 26, 1983 12:46


40 years ago

4.7


33 km
64km / 40mi
61 km S of Kogon Shahri, Bukhara, Uzbekistan
More
May 16, 1983 12:07


40 years ago

4.7


33 km
70km / 43mi
56 km SW of Kogon Shahri, Bukhara, Uzbekistan
More
Mar 5, 1983 11:37


40 years ago

4.7


33 km
74km / 46mi
53 km S of Kogon Shahri, Bukhara, Uzbekistan
More
Aug 27, 1983 05:04


39 years ago

4.6


33 km
68km / 42mi
60 km S of Kogon Shahri, Bukhara, Uzbekistan
More
Jul 16, 1983 04:32


40 years ago

4.5


33 km
126km / 78mi
24 km NW of Koson, Qashqadaryo, Uzbekistan
More
Jul 17, 1986 14:58


37 years ago

4.4


33 km
154km / 96mi
26 km NW of Seydi, Provincia de Mary, Turkmenistan
More
Apr 18, 1986 12:39


37 years ago

4.4


33 km
141km / 88mi
Provincia de Lebap, 24 km N of Seydi, Provincia de Mary, Turkmenistan
More
Jun 3, 1983 12:10


40 years ago

4.4


33 km
128km / 80mi
16 km W of Koson, Qashqadaryo, Uzbekistan
More
Jan 17, 2022 10:30


1 year 1 weeks ago

4.3


10 km
111km / 69mi
Turkmenistan
More
Jun 1, 1983 11:58


40 years ago

4.3


33 km
122km / 76mi
15 km SE of Muborak, Qashqadaryo, Uzbekistan
More
Apr 28, 1983 12:18


40 years ago

4.3


33 km
118km / 73mi
13 km SE of Muborak, Qashqadaryo, Uzbekistan
More
Aug 14, 1985 02:29


37 years ago

4.2


33 km
118km / 73mi
30 km NW of Karakul', Bukhara, Uzbekistan
More
May 8, 1993 13:21


30 years ago

4.0


181 km
57km / 35mi
64 km SE of Karakul', Bukhara, Uzbekistan
More
Apr 20, 1982 05:39


41 years ago

4.0


33 km
93km / 58mi
32 km SW of Kogon Shahri, Bukhara, Uzbekistan
More
Jun 17, 2022 10:34


32 weeks ago

3.3


10 km
81km / 50mi
Uzbekistan, 84 km N of Atamyrat, Provincia de Lebap, Turkmenistan
More
Dec 15, 2021 21:19


1 year 6 weeks ago

3.1


10 km
111km / 69mi
22 km E of Seydi, Provincia de Mary, Turkmenistan
More
May 27, 2021 08:17


1 year 35 weeks ago

3.1


10 km
55km / 34mi
82 km S of Turkmenabat, Provincia de Lebap, Turkmenistan
More
Jan 17, 2021 12:00


2 years ago

2.6


10 km
58km / 36mi
4.6 km NE of Turkmenabat, Provincia de Lebap, Turkmenistan
More
Map of earlier quakes