Minor mag. 3.1 earthquake - 89 km east of Copiapo, Atacama, Chile, on Sunday, Feb 5, 2023 at 8:25 am (GMT -3) -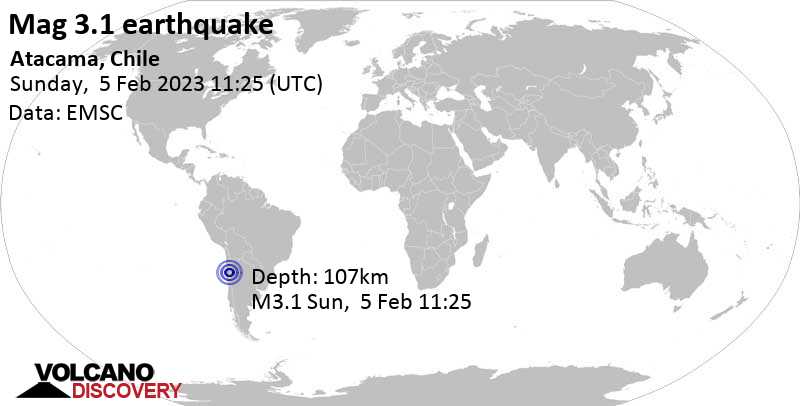 Minor magnitude 3.1 earthquake at 107 km depth
5 Feb 11:37 UTC: First to report: EMSC after 12 minutes.
Earthquake details
Date & time
Feb 5, 2023 11:25:04 UTC -
Local time

at epicenter

Sunday, Feb 5, 2023 at 8:25 am (GMT -3)
Status
Confirmed
Magnitude
3.1
Depth
107.0 km
Epicenter

latitude / longitude

27.61°S / 69.47°W (Provincia de Copiapo, Atacama, Chile)
Antipode
27.61°N / 110.53°E
Shaking

intensity

Not felt
Primary data source
EMSC (European-Mediterranean Seismological Centre)
Nearest volcano
El Solo (93 km / 58 mi)
Nearby

towns and cities

89 km (55 mi) ESE of Copiapo (pop: 129,300) |

Show on map

| Quakes nearby
150 km (93 mi) SSE of Diego de Almagro (pop: 18,100) |

Show on map

| Quakes nearby
166 km (103 mi) NE of Vallenar (pop: 44,900) |

Show on map

| Quakes nearby
178 km (111 mi) NW of Vinchina (La Rioja, Argentina) (pop: 2,830) |

Show on map

| Quakes nearby
660 km (410 mi) N of Santiago de Chile (Metropolitana) (pop: 4,837,300) |

Show on map

| Quakes nearby
Weather at epicenter

at time of quake

Broken Clouds 8.8°C (48 F), humidity: 58%, wind: 1 m/s (3 kts) from SSW
Estimated

seismic

energy

released

2.8 x 109 joules (783 kilowatt hours, equivalent to 0.674 tons of TNT) | about seismic energy
Data for the same earthquake reported by different agencies
Info: The more agencies report about the same quake and post similar data, the more confidence you can have in the data. It takes normally up to a few hours until earthquake parameters are calculated with near-optimum precision.
Seismograms
Seismic station: Copiapo (Tierra Amarilla), Chile (GO03/C network)
| Distance from quake: 75 km / 47 mi |
Show on map
|
Station Info
Seismogram (vertical component) around time of quake. Thin dotted red line indicates time of quake. Seismic waves arrive some time later, depending on distance. Bandpass filter applied: 0.5-10.0 Hz. Source:
IRIS Buffer of Uniform Data (BUD) webtool
User reports for this quake
There are no user reports for this quake.
Earlier earthquakes in the same area since 1900
Date and time GMT
Mag
Depth
Distance
Location
Details
Nov 11, 1922 04:32


100 years ago

8.5


70 km
85km / 53mi
Provincia de Copiapo, 94 km E of Vallenar, Huasco, Atacama, Chile
More
Dec 4, 1918 11:47


104 years ago

7.8


40 km
164km / 102mi
59 km W of Diego de Almagro, Provincia de Chañaral, Atacama, Chile
More
Dec 28, 1966 08:18


56 years ago

7.7


25 km
259km / 161mi
12 km SW of Taltal, Provincia de Antofagasta, Chile
More
Oct 4, 1983 18:52


40 years ago

7.4


15 km
161km / 100mi
Provincia de Chañaral, 95 km N of Copiapo, Atacama, Chile
More
Apr 18, 1939 06:22


84 years ago

7.4


35 km
144km / 89mi
55 km W of Copiapo, Atacama, Chile
More
Sep 1, 2020 04:09


3 years ago

7.0


31 km
179km / 111mi
South Pacific Ocean, 82 km NW of Vallenar, Huasco, Atacama, Chile
More
Feb 23, 1965 22:11


58 years ago

7.0


35 km
251km / 156mi
32 km SW of Taltal, Provincia de Antofagasta, Chile
More
Nov 7, 1922 23:00


100 years ago

7.0


25 km
259km / 161mi
120 km W of Vallenar, Huasco, Atacama, Chile
More
Aug 2, 1946 19:18


77 years ago

6.9


39 km
164km / 102mi
43 km W of Diego de Almagro, Provincia de Chañaral, Atacama, Chile
More
Aug 3, 1920 19:57


103 years ago

6.9


15 km
162km / 101mi
38 km NW of Fiambala, Departamento de Tinogasta, Catamarca, Argentina
More
Nov 11, 2015 02:46


7 years ago

6.8


12 km
310km / 192mi
South Pacific Ocean, 73 km NW of Coquimbo, Provincia de Elqui, Coquimbo Region, Chile
More
Nov 11, 2015 01:54


7 years ago

6.8


10 km
300km / 186mi
South Pacific Ocean, 69 km NW of Coquimbo, Provincia de Elqui, Coquimbo Region, Chile
More
Jan 30, 2013 20:15


10 years ago

6.8


46 km
145km / 90mi
44 km N of Vallenar, Huasco, Atacama, Chile
More
Dec 18, 1956 02:31


66 years ago

6.8


45 km
236km / 146mi
48 km E of Taltal, Provincia de Antofagasta, Chile
More
May 20, 1918 17:55


105 years ago

6.8


20 km
299km / 186mi
89 km NW of Coquimbo, Provincia de Elqui, Coquimbo Region, Chile
More
Apr 30, 2006 19:17


17 years ago

6.7


12 km
167km / 104mi
79 km NW of Copiapo, Atacama, Chile
More
Apr 18, 2002 16:08


21 years ago

6.7


62 km
110km / 69mi
31 km SW of Copiapo, Atacama, Chile
More
Nov 1, 1995 00:35


27 years ago

6.7


20 km
239km / 149mi
74 km SW of Vallenar, Huasco, Atacama, Chile
More
Mar 15, 1993 16:08


30 years ago

6.7


29 km
175km / 109mi
94 km NW of Copiapo, Atacama, Chile
More
Aug 14, 1988 17:53


35 years ago

6.7


33 km
165km / 102mi
76 km W of Copiapo, Atacama, Chile
More
Oct 9, 1983 11:25


40 years ago

6.7


16 km
194km / 121mi
53 km NW of Diego de Almagro, Provincia de Chañaral, Atacama, Chile
More
Aug 18, 1964 04:45


59 years ago

6.7


15 km
243km / 151mi
159 km NW of Copiapo, Atacama, Chile
More
Jan 29, 1924 01:54


99 years ago

6.7


45 km
143km / 89mi
39 km N of Vallenar, Huasco, Atacama, Chile
More
Sep 3, 1998 17:37


25 years ago

6.6


27 km
300km / 186mi
67 km NW of Coquimbo, Provincia de Elqui, Coquimbo Region, Chile
More
Nov 11, 1922 18:09


100 years ago

6.6


35 km
139km / 87mi
27 km NE of Vallenar, Huasco, Atacama, Chile
More
Apr 30, 2006 21:40


17 years ago

6.5


12 km
163km / 101mi
74 km W of Copiapo, Atacama, Chile
More
Aug 15, 1987 18:04


36 years ago

6.5


37 km
151km / 94mi
51 km N of Vallenar, Huasco, Atacama, Chile
More
Jul 25, 1964 19:31


59 years ago

6.5


30 km
156km / 97mi
85 km SW of Copiapo, Atacama, Chile
More
Dec 22, 1944 22:31


78 years ago

6.5


45 km
230km / 143mi
37 km SE of Taltal, Provincia de Antofagasta, Chile
More
Oct 1, 1940 10:42


83 years ago

6.5


45 km
159km / 99mi
31 km N of Vallenar, Huasco, Atacama, Chile
More
Feb 28, 1927 14:07


96 years ago

6.5


35 km
189km / 118mi
32 km W of Vallenar, Huasco, Atacama, Chile
More
May 4, 1923 22:26


100 years ago

6.5


35 km
234km / 145mi
68 km SW of Vallenar, Huasco, Atacama, Chile
More
Apr 1, 2002 19:59


21 years ago

6.4


71 km
296km / 184mi
32 km N of Coquimbo, Provincia de Elqui, Coquimbo Region, Chile
More
Jun 10, 1985 15:37


38 years ago

6.4


151 km
247km / 153mi
Departamento de Belén, 132 km NW of San Fernando del Valle de Catamarca, Departamento de Capital, Catamarca, Argentina
More
Jan 6, 1968 23:27


55 years ago

6.4


30 km
141km / 87mi
75 km SW of Copiapo, Atacama, Chile
More
Nov 29, 1943 19:37


79 years ago

6.4


15 km
177km / 110mi
18 km W of Tinogasta, Catamarca, Argentina
More
Sep 1, 2020 21:09


3 years ago

6.3


24 km
208km / 129mi
South Pacific Ocean, 105 km NW of Vallenar, Huasco, Atacama, Chile
More
Mar 26, 2010 14:52


13 years ago

6.3


42 km
138km / 86mi
81 km SW of Copiapo, Atacama, Chile
More
Jan 18, 1985 15:00


38 years ago

6.3


83 km
235km / 146mi
83 km NE of Coquimbo, Provincia de Elqui, Coquimbo Region, Chile
More
Aug 3, 1978 18:11


45 years ago

6.3


58 km
162km / 101mi
97 km N of Copiapo, Atacama, Chile
More
Aug 7, 1973 14:22


50 years ago

6.3


14 km
168km / 104mi
83 km NW of Copiapo, Atacama, Chile
More
Jul 31, 1973 10:51


50 years ago

6.3


33 km
209km / 130mi
120 km W of Copiapo, Atacama, Chile
More
Jun 17, 1971 21:00


52 years ago

6.3


92 km
254km / 158mi
242 km SE of Antofagasta, Chile
More
Mar 9, 1997 11:43


26 years ago

6.2


33 km
295km / 183mi
24 km NE of Coquimbo, Provincia de Elqui, Coquimbo Region, Chile
More
Sep 1, 2020 04:30


3 years ago

6.1


37 km
179km / 111mi
South Pacific Ocean, 71 km NW of Vallenar, Huasco, Atacama, Chile
More
Nov 14, 2012 19:02


10 years ago

6.1


62 km
246km / 153mi
82 km SW of Vallenar, Huasco, Atacama, Chile
More
Dec 7, 2011 22:23


11 years ago

6.1


20 km
146km / 91mi
83 km SW of Copiapo, Atacama, Chile
More
Aug 17, 1988 11:34


35 years ago

6.1


39 km
161km / 100mi
73 km NW of Copiapo, Atacama, Chile
More
Jan 28, 1982 14:26


41 years ago

6.1


33 km
229km / 143mi
143 km W of Copiapo, Atacama, Chile
More
Jul 19, 1980 11:52


43 years ago

6.1


110 km
156km / 97mi
116 km SE of Vallenar, Huasco, Atacama, Chile
More
Apr 28, 1979 11:38


44 years ago

6.1


23 km
147km / 91mi
62 km W of Copiapo, Atacama, Chile
More
Aug 7, 1973 03:41


50 years ago

6.1


25 km
167km / 104mi
85 km NW of Copiapo, Atacama, Chile
More
Jul 25, 2016 17:26


7 years ago

6.0


52 km
187km / 116mi
41 km NW of Diego de Almagro, Provincia de Chañaral, Atacama, Chile
More
Nov 7, 2015 07:04


7 years ago

6.0


10 km
314km / 195mi
South Pacific Ocean, 70 km NW of Coquimbo, Provincia de Elqui, Coquimbo Region, Chile
More
Sep 12, 2006 13:30


17 years ago

6.0


114 km
159km / 99mi
Departamento de Iglesia, San Juan, 138 km W of Chilecito, La Rioja, Argentina
More
Apr 15, 2006 23:50


17 years ago

6.0


20 km
345km / 214mi
67 km W of Coquimbo, Provincia de Elqui, Coquimbo Region, Chile
More
Mar 19, 1993 01:48


30 years ago

6.0


29 km
177km / 110mi
94 km NW of Copiapo, Atacama, Chile
More
May 18, 1971 06:12


52 years ago

6.0


85 km
110km / 69mi
Departamento de Vinchina, 219 km NW of Rioja, Departamento de Capital, La Rioja, Argentina
More
Mar 15, 1970 12:39


53 years ago

6.0


117 km
233km / 145mi
Departamento de Iglesia, 87 km NW of San José de Jachal, Departamento de Jachal, San Juan, Argentina
More
Aug 27, 2004 00:43


19 years ago

5.9


30 km
133km / 83mi
47 km W of Copiapo, Atacama, Chile
More
Dec 28, 1987 08:16


35 years ago

5.9


52 km
123km / 76mi
60 km N of Vallenar, Huasco, Atacama, Chile
More
Aug 7, 1973 10:04


50 years ago

5.9


34 km
171km / 107mi
90 km NW of Copiapo, Atacama, Chile
More
Jun 11, 1956 09:56


67 years ago

5.9


35 km
147km / 91mi
60 km W of Copiapo, Atacama, Chile
More
Apr 9, 2010 22:23


13 years ago

5.8


118 km
169km / 105mi
24 km N of Vinchina, La Rioja, Argentina
More
Nov 30, 1995 13:15


27 years ago

5.8


20 km
145km / 90mi
73 km SW of Copiapo, Atacama, Chile
More
Aug 3, 1995 08:18


28 years ago

5.8


104 km
78km / 48mi
Departamento de Vinchina, 196 km NW of Chilecito, La Rioja, Argentina
More
Jun 21, 1992 10:52


31 years ago

5.8


39 km
170km / 106mi
63 km W of Diego de Almagro, Provincia de Chañaral, Atacama, Chile
More
Sep 7, 2018 02:39


5 years ago

5.7


93 km
154km / 96mi
68 km SE of Vallenar, Huasco, Atacama, Chile
More
Aug 17, 1988 12:38


35 years ago

5.7


37 km
168km / 104mi
81 km NW of Copiapo, Atacama, Chile
More
Oct 4, 1983 19:26


40 years ago

5.7


31 km
184km / 114mi
60 km W of Diego de Almagro, Provincia de Chañaral, Atacama, Chile
More
Nov 19, 1973 18:40


49 years ago

5.7


58 km
166km / 103mi
16 km NW of Vallenar, Huasco, Atacama, Chile
More
Aug 14, 1973 01:57


50 years ago

5.7


29 km
173km / 107mi
95 km NW of Copiapo, Atacama, Chile
More
Mar 26, 1973 11:04


50 years ago

5.7


117 km
71km / 44mi
Departamento de Vinchina, 254 km NW of Rioja, Departamento de Capital, La Rioja, Argentina
More
Jul 12, 1965 13:57


58 years ago

5.7


112 km
150km / 93mi
37 km N of Vinchina, La Rioja, Argentina
More
Sep 1, 2021 18:35


1 year 30 weeks ago

5.6


21 km
144km / 89mi
72 km SW of Copiapo, Atacama, Chile
More
Mar 10, 2008 09:43


15 years ago

5.6


90 km
83km / 51mi
Departamento de Vinchina, 266 km NW of Rioja, Departamento de Capital, La Rioja, Argentina
More
Oct 31, 1990 14:39


32 years ago

5.6


60 km
148km / 92mi
Provincia de Chañaral, 83 km N of Copiapo, Atacama, Chile
More
Mar 6, 2022 09:35


1 year 4 weeks ago

5.5


118 km
124km / 77mi
146 km NW of Chilecito, La Rioja, Argentina
More
Jun 5, 2019 16:19


4 years ago

5.5


76 km
67km / 42mi
22 km E of Copiapo, Atacama, Chile
More
Aug 1, 2017 06:13


6 years ago

5.5


82 km
133km / 83mi
53 km W of Vinchina, La Rioja, Argentina
More
Apr 11, 2017 13:39


6 years ago

5.5


70 km
49km / 31mi
45 km SE of Copiapo, Atacama, Chile
More
Jul 26, 2003 14:10


20 years ago

5.5


36 km
158km / 98mi
46 km NW of Vallenar, Huasco, Atacama, Chile
More
Jul 18, 1998 09:57


25 years ago

5.5


47 km
155km / 97mi
31 km N of Vallenar, Huasco, Atacama, Chile
More
May 17, 1997 02:10


26 years ago

5.5


106 km
50km / 31mi
85 km E of Copiapo, Atacama, Chile
More
Apr 3, 1992 06:07


31 years ago

5.5


110 km
147km / 92mi
119 km E of Vallenar, Huasco, Atacama, Chile
More
Oct 6, 1983 15:01


40 years ago

5.5


20 km
173km / 108mi
92 km NW of Copiapo, Atacama, Chile
More
Apr 24, 1976 11:05


47 years ago

5.5


94 km
129km / 80mi
45 km E of Vallenar, Huasco, Atacama, Chile
More
Apr 8, 1976 00:31


47 years ago

5.5


52 km
137km / 85mi
Huasco, 91 km SW of Copiapo, Atacama, Chile
More
Jul 1, 2012 23:39


11 years ago

5.4


61 km
179km / 111mi
15 km SW of Vallenar, Huasco, Atacama, Chile
More
Feb 8, 2011 13:03


12 years ago

5.4


95 km
5km / 3mi
85 km E of Copiapo, Atacama, Chile
More
May 1, 2006 02:49


17 years ago

5.4


24 km
153km / 95mi
64 km W of Copiapo, Atacama, Chile
More
Oct 17, 2001 02:34


21 years ago

5.4


117 km
112km / 70mi
General Lamadrid, 157 km NW of Chilecito, La Rioja, Argentina
More
Nov 1, 1992 09:36


30 years ago

5.4


110 km
144km / 90mi
Departamento de Iglesia, San Juan, 201 km W of Chilecito, La Rioja, Argentina
More
Aug 17, 1988 08:16


35 years ago

5.4


30 km
162km / 100mi
73 km NW of Copiapo, Atacama, Chile
More
May 23, 1988 00:28


35 years ago

5.4


117 km
123km / 77mi
Departamento de Vinchina, 137 km NW of Chilecito, La Rioja, Argentina
More
Nov 18, 1987 12:46


35 years ago

5.4


41 km
180km / 112mi
46 km W of Diego de Almagro, Provincia de Chañaral, Atacama, Chile
More
Jan 26, 1986 07:48


37 years ago

5.4


31 km
155km / 96mi
66 km NW of Copiapo, Atacama, Chile
More
Mar 4, 1984 22:34


39 years ago

5.4


33 km
171km / 106mi
92 km NW of Copiapo, Atacama, Chile
More
May 7, 1983 01:07


40 years ago

5.4


51 km
137km / 85mi
63 km N of Vallenar, Huasco, Atacama, Chile
More
May 2, 1983 01:24


40 years ago

5.4


33 km
163km / 101mi
Provincia de Chañaral, 89 km NW of Copiapo, Atacama, Chile
More
Map of earlier quakes